Late Night Swim
November 16, 2009
One morning at around 10:00am I knew it was going to be a bad day because it was raining out. Ten minutes after that it cleared up and my friend Harley called to tell me to go to the skate park, I said yes. I still thought it was going to be a bad day till it got really sunny and hot, from then I knew it was going to be a good day.

At the skate park there was Harley, Christof, Stevie, James, And I. I had no skateboard so I had to share with Harley. We skated for about 3-5 hours till we got tired then we decided to go to Harleys. At Harleys we were asked to spend the night there. We said we would ask. Everybody's parents said yes except for James so he had to go home. We all got bored so we went to go hang in the steam house were we always hang. Later on Harleys dad told us to get ready to go and sleep at their fish camp. We got the tent and we headed for the boat harbor. Before we went to the boat harbor we went to our houses and got our stuff that we needed. We all were ready to go so we got the boat in the water and headed off to Harleys fish camp. It took about 10 to 20 minutes to get to the fish camp. At the fish camp we immediately got our trunks on and started swimming.

We swam for about three to four hours; at this time we were exhausted. Harley's mom and dad had already made a fire for us so we made hotdogs and smores. After that we got the tent ready and put our sleeping bag in there. We stayed in the tent till Harley's mom and dad fell asleep. We waited for about an hour till they fell asleep so we can go back to the river and swim some more. We swam for three to four hours again but this time it was freezing; but we didn't care about how cold it was we just wanted to have fun. It was about five in the morning till we finally stopped swimming. So we got our towels and made a second fire, because the last fire I peed out, and dried off. Later we all got tired so we went in the tent so we could go to sleep.

The morning we woke up we all were feeling a bit sick so when we went home we had to go get checked at the hospital. We all went home with two things, one, wet trunks and two, sickness.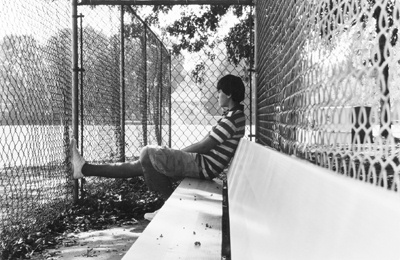 © Kyle W., Pompton Plains, NJ