Asian Dramas
November 2, 2009
Homeworks, quizzes, exams, projects, SAT, and college applications are some of the many stressful things that a normal senior experiences before high school ends. Even though it is the last year of what I call "immaturity stage", I can say that it is by far the most restless year of my life. The only way I can release stress is by watching Asian dramas whenever I'm free. I guess it is my way of taking a hiatus from everything such as problems and school. Since I cannot understand any language other than English and Filipino, I mostly rely on subtitles

I started watching dramas in freshman year. At first, I only watched Japanese dramas; however as time passed, I slowly became interested in Korean and Taiwanese dramas as well. A lot of my friends say that my addiction of dramas is wierd and the only reason why I watched them is because of the lead actors. I cannot deny and say that they are wrong, but that is not the only reason. In fact, I love dramas because of their unique storylines and the valuable lessons the viewers can get from watching them. Watching Asian dramas is my way of relaxation, but I try to not let it take over my life.

One of my favourite dramas was Ichi Rittoru no Namida, which translates One Litre of Tears in English. This Japanese drama was based on a real-life story about a 15-year-old girl named Ikeuchi Aya, who suffered from spinocerebellar degeneration. Spinocerebellar degeneration is a terrible, cruel disease where the cerebellum of the brain gradually deteriorates to the point where the victim cannot walk, speak, write, or eat. The story revolved around how Aya and her family dealt with her sickness. This drama was by far the best I have watched so far because it taught me that a person should not give up on life regardless of how difficult the challenges may be. Even though she got sick at a very young age, she did not give up and let her disease take over her life.

Now that I'm a little older and I started to get involved with clubs and extra curricular activities, I barely have the time to keep track of my dramas. I try to watch as much as I can, but with the amount of homework that I currently have, it is almost impossible. As of now, the only drama I watch during the weekend is a Taiwanese drama entitled Autumn Concerto starring Vanness Wu and Ady Ahn. I started watching it because I'm a big fan of Vanness ever since I was young. I have watched five episodes so far and the story keeps on getting better. Other than that, the drama makes me want to visit Taiwan in the future.
Asian dramas help relieve stress and keeps me from going insane because of school. No matter what my friends say, I will keep on watching them because I do not see anything wrong from it other than the fact that I cannot understand without the help of captions. So far, I think I have watched more than twenty dramas and I still remember every single one of them. Teenagers normally cope with stress through games, Myspace, chatting online, but I guess I'm just different from them. Asian dramas is my way of taking myself out all the stress I have and it helps me forget about my problems in life.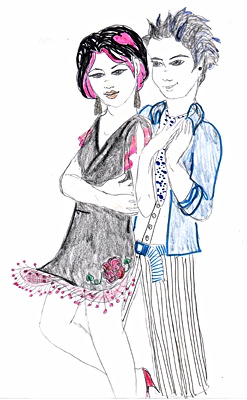 © Liza M., Vineland, NJ