Paradox
October 18, 2009
My image of myself was perfectly acceptable. I was a short, dark-haired, light-eyed creature with my head in the clouds and my hands wet with ink. My hobbies were uncontaminated by science or mathematics: writing, acting, dancing, singing. Some science and math crept into such practices, of course, but I did my best to avoid them and make disgusted little faces when they showed themselves. I was happy. There was no need for a drastic unveiling.

The seed was planted during an innocent walk to English class with my dad after Algebra II. I was going goo-goo eyed over synthetic division (it makes polynomial division so much easier!) when my dad says:

"You're such a geek."

For the first time in my life I understood the cliche: "taken aback." I paused mid-step, blinked, and was rendered speechless. After a hasty recovery, I gasped: "What?"

"You're such a geek." Why, thank you for making that so much clearer.

"That's Andrew," I said. "And you."

He just laughed. So I was left to wonder and analyze and bewilder over what he possibly meant by such a crazy assertion. But then English class began and I quickly forgot my worries in a blissful cloud of language.

I might have continued with my oblivion if it wasn't for my state the next day. Maybe I wasn't getting enough sleep or maybe someone shot sugar into my blood while I slept, but I was loopy. I sat outside in the grass and simply marveled, hyper-aware of every insect and blade of grass. My thoughts went haywire; I swear I was recalling every science fact ever crammed into my fifteen years of existence.

"When I touch this blade of grass, it's my magnetic force colliding with its magnetic force, creating the illusion of touch. I wonder if it would feel any different if I was REALLY touching it. Or – would I go right through it? Without a magnetic force, the atoms in the grass wouldn't stop mine…" You get the picture. I was grinning like the idiot I was, glorifying in all these weird facts that don't matter to anyone except science freaks. And all of a sudden I think, "Oh my gosh, I'm a geek."

And I liked it.

It was frighteningly wonderful to let the air-headed pencil princess float away to the clouds where she belonged. I was just – me. A geeky writer. A paradox.

I still have my dark hair and light eyes, but while I'm not counting on platinum blond curls springing from my scalp anytime soon, I DID grow three inches. I'm officially "medium." My fingers are still inky, but I'm a little better at sticking to the dirt. And while math isn't exactly a friend, its not an enemy either. I know I can take it in stride and still be ME.

So maybe a little unveiling was a good thing.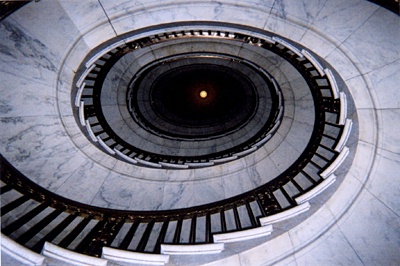 © Kyle T., St. Joseph, MO