The Angel On Earth
October 12, 2009
I walked out of the hospital dreading what would happen the next day, or even that night. Nobody thought she would make it, but surprisingly she did. We didn't know how much longer she would be blessing us with her presence, however we did know it wasn't long.

It was October 30th, 2007, sitting in my PM3 gym class waiting for the bell to ring. I made the dreaded walk up the steps from the gym to the fourth floor for math class. After class started we did our daily quiz. Our rooms had telephones in case the secretary needed to talk to the teacher or they had to send someone to the office.

The phone rang, and I knew it was for me. Ms. Todt, my teacher at the time, looked at me and said, " Heather, get your things and go to the office." When I got there they told me that my mother was outside to pick me and brother, Jordan, up. As we walked outside I felt my eyes well up. My mom said something like grandma is getting really bad and she's not going to be here tomorrow.

The, what usually seems like 10 minutes ride to the hospital, seemed to take hours on end. Like a road trip from end of the country to the next. When we finally arrived we got on the elevator to go up to the fourth floor of St. Mary's hospital. We walked down the hall and made a right to go to room four.

When my mother opened the door, my heart dropped. She (my grandma) never needed help with anything. She would cook, clean, and play more video games in one day then most boys and men. And now, a machine was breathing for her, IVs were feeding her, and doctors would only come to check to see if she was still alive. I never thought I would have to see her like this, I always thought she would go peacefully in her own bed, own house, in the house that she filled with people she didn't know because that's the person she was. We knew that she would be taking her last helped breath any minute.

After sitting there and cracking jokes about the family, my brother and I got up to go get something to drink from the lounge. We left at around 3:20, and when we came back, well, she was gone, just laying there in my mom's arms. It took no more than 5 minutes to get some tea, 5 minutes for the person that cared for us to be taken forever. The person that could always make you smile no matter what. The one person that everyone went to when they needed something. Just gone, taken, forever. 5 minutes. 300 seconds. 300,000 milliseconds. 300,000,000 microseconds. 300,000,000,000 nanoseconds. A time that doesn't seem like long. A time span that usually seems to come and go. But, when it's your family members life on the line, it seems like so much longer.
My mom was sitting on the bed, repeating 3:26, 3:26, 3:26, over and over again. I was thinking, that must be the time she died. I couldn't bring myself to cry, I couldn't let myself admit to the fact that this person, my great grandmother was really gone. So, I didn't.

When it was time for her funeral, I was the one to read her eulogy. I read it over and over again, time after time, the entire ride to the funeral home. Just to reassure myself that I was strong enough to read it in front of my family. I started out reading, the first thing on the paper was her birthday, and that was it. I couldn't do it anymore. Reading this piece of paper made me really realize that she was gone. I bawled, my uncle had to finish for me. I never thought that something so simple, would leave me unable to talk, only to sniffle and wipe my eyes over and over again.

Addie Ellen S. My great grandmother, someone who didn't deserve to leave this planet is gone. I know now that it really was her time, and she had touched the people she was supposed to and lived her life to the fullest that she could. She will always be remembered for the things she did without doing or saying anything. We all love you grandma.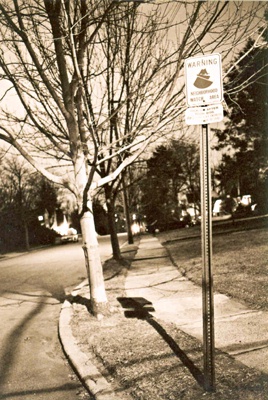 © Samantha G., W. Orange, NJ