Impatiens on a Tuesday
October 3, 2009
Sometimes in the afternoon, I would walk. And it wasn't like these strolls through the neighborhood were for the dog either. Walking is something that makes my heart feel pure, and my mind numb with quiet. I believe walking is a healing power.
Everyday for as long as I can remember I've seen the same three walking through and without my neighborhood area. They take the usual path, as if it is their goal to make some spiritual quest once a day until they die. Or maybe they like walking for the same reason I do- it's cleansing. But unlike me, there is a real driving force underneath, a love, a commitment I have never seen in anything else- and I do not need their life story nor their names to know this. It is a journey with a mother, a disabled daughter, and their dog.
In the slanting afternoon sun, I catch a glimpse from a car window as they take the same path, around a small pond. The mother walks ahead with the dog following at her ankles; she listens to the silvery sound of leaves, and absorbs the view of deep beauty. The lake, the sky, the flowers…. But her does not look back at her daughter. Now I am not saying this is done in some selfish way of rejecting her now a woman child, but I believe she understands that her daughter is in her own world. The mother with short blond hair walks on with no readable expression, as though the walk has ebbed her emotions and has replaced it with courage. Her daughter, a woman maybe in her 40s stumbles behind her. She wears some sort of music device. I sometimes like to guess what she's listening to, but can never really come up with anything. She walks in a sideways pattern, her head leaning to the left and her eyes cast low towards all the velvet soft roses and plants.

The sight of them always brought upon a twinge of sadness, but I never thought I could connect with her on the level I had one day. As they walked, they turn upon a street of my block, the side walks are lined with a stone fence, where on the top holds thousands of different flowers. Impatiens this time of year. But on this particular day as I walked my dog with some music occupying my ears and attention, I saw them on the other side of the street. I stopped; and watched as the disabled woman stumbled behind her mother as she brushed her fingers across the top of the flowers. Touching the sweet tender petals. It pierced me in a way I hadn't known possible. For everyday, as I pass those flowers I run my hand across their happy faces too, as if to say hello. She was no different than me really, both of innocence and guilt; both hold emotions we can't always funnel out.
So she walked on, her brave mother leading her home as she had done for the past 15 years. They possessed a commitment that burned my eyes that almost made the bittersweet admiration unbearable. But none the less, they walked. My feet moved forward too, and as we walked opposite directions, I understood what path to take.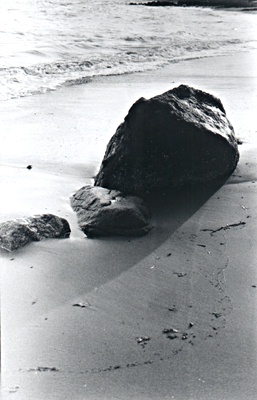 © Alexa R., Marblehead , MA