Rambles of a 15-Year-Old
January 18, 2019
It's 12 minutes till midnight - wait, it's now 11:49 p.m. That's 11 minutes till midnight.
And now, it changed to 10 minutes. I should be getting ready for bed. Yet, something, just something is telling me to write. I took out my laptop from under my bed before switching it on.
In case you're wondering, I am sitting at the edge of my bed as I write. I don't know what it is about writing, with the way it compels you to stay up and just write. It's as though writing is a spell casted on someone who loves it.
Time has passed; it is now 11:55 p.m. 5 more minutes.
Frankly, I opened up my laptop to write about something else entirely. I'm not even kidding. I was planning to write a short story; an idea has arrived in this head of mine, and I need to write it.
But then of course, I heard the first line in my head (It's 12 minutes till midnight, in case you've forgotten), so I knew I definitely had to write it down.
1 more minute. That's 60 seconds. And now, it's midnight.
I know that I should be sleeping, or I should at least be in bed, trying to sleep. But I'm here, writing about how I felt like writing and that I should be sleeping instead.
Or something like that.
I can't exactly remember the point of me writing this entry down on my blog.
Anyways, it's 12:02 a.m. 2 minutes past midnight, and the start of a new day.
And I must write that short story I have in my head.
I really need to stop procrastinating.
Good night.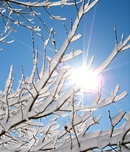 © Barbara S., Hoffman Estates, IL