Reliving and Restarting
May 4, 2018
November 31st , 2017 at 9:00am was the day when I moved back to my grandmother's house. The day started off with me waking up at 9:00am and packing all my stuff,taking my clothes out the closet laying it out on the floor and just wishing this moment never happen. I was looking around, still taking clothes from the closet and I pulled out a sweater that was my father's , that he have given to me.
He have given this sweater to me when I first moved into his home, two years ago. The sweater was beat-up looking it had felt rough. It was the sweater he had always wore to his job and it took me back to this time when I lived with my father. I thought the move back to my father's home would be permanent, but it only lasted five months. I just started to look around my Father's house and try to remember the smell and every specific detail in my father house , remembering every possible moment I had in each room for instance.
In the first room , I saw in my memory where I was playing hide -n-seek with my siblings everytime i played with them it was so fun because i also had this little stop that i will always hide in and they will never find me. In the second room I looked inside and recalled play fighting with my cousin christian, with me and him everything was a competition I remember when he said i can't beat him up then guess what happen I whoop his butt. Then I went downstairs where I just looked into the living room , where I felt safe and comforted by my family: my father, his girlfriend,my 4 year old sister, my 6 year old brother , as we all watched a movie together on Saturday nights the one movie that I remember that we all watch was beetlejuice ,I remember when we had popcorn and I was so comfortable because I was laying on my dad.

As I left my father's house I felt so very gloomy that i, knowing I wasn't going to be living with my father anymore and won't even be seeing him again . A lot of memories started to go through my mind that i had with my father and those memories were not making my day any better.

Driving away from my Father's house , I was very heart- broken. I was never going back; all these memories and feelings were mixed up in my head . I started to feel depressed and blamed myself . During the car ride there was this one song named ; "See You Again", that played from the radio and I cried . Deep down I just wished I could go in a time machine and fix everything. I was sitting in the backseat, my face out the window, while my father was driving and I saw my Father looking at me through the front seat mirror , but he didn't say a word I wanted to start a conversation ; I wanted him to talk to me . Throughout the car ride there was silence , except for the radio , the sounds of traffic the car ride was the last memories i have had with my father.

We arrived at my grandmother's house i started to look around and say to myself this kinda like a new start for me, to be honest i was excited and hurt to be at my grandmother's house, i was excited because i have friends here that i have grew up with and everything was so close I was hurt because this is last time i will ever see him where I was going to live , my Father helped me with my bags , but left them at the door. He sobbed "goodbye" and hugged me.
I never saw him again. Going upstairs my uncle rubs my back and and comfort me"don't let this bring you down"once i got upstairs i rush to the window to see my father leave last thing i remember is my father car make a u turn to go other way . I was hurt till now life has been good for me but when having events I just wish he there supporting on what I do, like but lately I have focusing on myself and worrying about me and leave somethings in the past.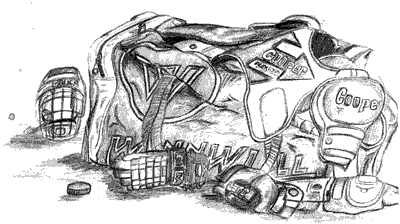 © by Casey C., Rockport, ME