A Friendship Fall
May 3, 2018
There are various valuable things in life, but friendship may be the most important. Five years old is a very tough age. It's lots of new beginnings and people you have never met before. I can remember the first day of Kindergarten like it was yesterday. My teacher's name was Mrs. Crisone, she was a lovely lady. As I stepped into the classroom everyone was staring at me. I looked across the whole room and pointed at one girl. She was wearing bright purple sneakers, I remember cause she wore them everyday. I walked up to her and said a nice, "hi." It wasn't long before we became inseparable best friends. Although, times have certainly changed I can never forget my very first best friend.
After the first week of school I started to make some more new friends. The girls that I met were all very kind but nothing like my new best friend Megan who I called Meg. Meg and I started doing everything together, like having playdates and getting our nails done. Before we knew it Kindergarten was sadly over and we began first grade in different classes. I made some more friends but still kept my strong relationship with Meg. We had movie nights every Friday, dance parties on Saturday, and played soccer on Sundays. Our lives were fairly easy and simple.

Soon enough 2008 rolls around, and the new hype is friendship bracelets. Meg and I made at least 45 bracelets and began selling them. We started a small business selling these string bracelets for 2$. Sadly, we went bankrupt. While we sold most of the bracelets we made, there was a specific bracelet that we kept. It had our initials on it and the abbreviation, BFF, best friends forever. We would switch every week who got to wear and eventually I gave it to her for a birthday surprise.

In 2010, I went to tennis camp in New York with my sister and my mother. My mother made the decision to switch us to a catholic private school. I was destroyed. I screamed at my mom, "HOW COULD YOU DO THIS, I CAN'T LEAVE ALL OF MY FRIENDS NOW!" However, she did not care. It was off to catholic school without a fight. I knew Meg would not react to this well. We were just about to start our third grade year together and luckily had the same teacher. Telling her that I was leaving was going to be extra tough. She came over to my house on a Saturday and we started riding our bikes up and down my extra large hill. Then, I spit it out. I said, "Megan were not going to be going to school together anymore…." She said at first that she was fine with it, but then my mother got a call from hers. She explained how terrified and upset Meg was that I'd no longer be going to school with her. I, myself, was terrified to be switching schools. I'd have to restart everything, as in making all new friends, no longer seeing my girlfriends each day, and the worst part was…. the uniforms.

The beginning of third grade started and I was pretty upset with how my life had changed so much. The girls were a bit more rough and not as friendly in the catholic school world. The boys were grimy and smelt bad. I felt out of place, and I wanted to go back to my old school. I kept seeing Meg every weekend, until the big fourth grade year came. Meg told me that I never made time for her anymore and I was always hanging out with my family or new friends. She said that I was becoming different and I had more things to worry about then her. I told her that I would make more time for her but she didn't care for what I had to say.


Towards the middle of fourth grade, I was extraordinarily busy. I was playing tennis, soccer, cheerleading, and was dancing. I also was falling behind in school and needed help from a tutor. My mom asked If I'd like to hangout with Meg, but I answered with, "No I can't this week I have dance …or soccer… or a club." Before I knew it I hadn't seen my best friend in months. I missed her. We hung out once more and then after that Meg and I went our separate ways. It was hard growing apart from Megan. I would think about our memories, the inside jokes we'd tell, and sadly our bracelet which told me that she lost right before we stopped seeing each other.

Two weeks ago I ran into Megan on the streets of Wyckoff. She yelled my name and was so happy to see me. We began talking about the nice relationship we had and how much fun we had together. She said she would love to have dinner sometime next week. The following week rolls by, and Megan and I go to dinner. While at the dinner table I looked at her wrist, she was wearing the bracelet that she told me she lost. That friendship bracelet was made now almost 10 years ago. We both started tearing up about how we don't see each other anymore. We cared about one another and even after all that time we were able to hangout as friends again. Megan and I have a bond that can last a lifetime and I'm so incredibly happy we were able to speak to each other, with the bracelet as an old memory but also a brand new beginning.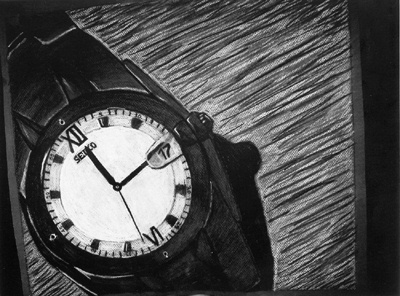 © Rachel U., Danbury, CT