45°46'39;57.7'34;N 91°28'39;45.5'34;W
April 13, 2018
This is the most beautiful place in Wisconsin. It sits on a 30 acre lot that connects to county land. It's a reddish one bedroom structure with two beds, two bunk beds, and a futon. There is running water with a shower and sink. About 20 yards away is an outhouse or in other words a toilet for the unfortunate people. The property is surrounded by trees and wildlife. It is my favorite place because of the quality family time and outdoor activities just outside the front door.

During the summer, fishing becomes a common activity to do. My grandpa and I will go out many times and attempt to catch enough for dinner. Although it doesn't happen a lot we somehow get it done a couple times a season. The time I spend with my grandpa on the boat will never be forgotten. Even though we encounter many troubles of loading and unloading the boat, broken motors, and not finding fish we seem to make fun out of the day every time we go.

Later in the fall season, we enjoy thanksgiving and the best season of all…gun deer season. Usually on the second weekend of deer hunting we make the trip to Birchwood. Going out in the woods and waiting for a deer is boring to most people but I rather enjoy it. I love sitting there, in pure solitude, waiting for any movement somewhere around me. The best moments in the woods are listening to the birds chirp and watching the sun rise and set. When the days hunt is complete, we head back to the reddish structure to enjoy turkey and stuffing and all the trimmings with the girls. We sit, laugh, and talk about the day's events. Then we usually end up playing some card games.

The nature up in Birchwood is incredible. We see deer, birds, bears, eagles, and sometimes coyotes and wolves. My dad and I do a lot of walking around looking for signs of wildlife. It is also a time to get to know the landscape around us. Whenever we go for walks we have our gps', a gun, and a backpack with important survival gear. We also spend lots of time fixing tree stands and trimming shooting lanes for the many hunts.
Four wheeling during the summer months is by far one of the best ways to spend a weekend up north. You never get to warm and you out run the mosquitos to keep bug bites to a minimum. When you're on the trails you meet other four wheelers and sometimes you say hi to them so your always making new friends. Another reason to love four wheeling is you can get as dirty as you want or as clean as you want. The trails are full of fun with rock climbing, mud pits, water holes, and sand dunes. Up north in Birchwood while on the trials, you will pass multiple food establishments to occupy for food or drink. Many are full of fun and have great people. I always have a good time riding with my family.

The family time that I get with everyone up north is amazing. My grandpa and I do almost everything together and one day I will miss it. I ride the trails with my grandpa and fish with him a lot. I hunt mainly with my Dad, which is always a blast. After a day of outdoor adventures we head back inside. This is time spent with the girl's playing cards and games. By spending quality time in Birchwood it has allowed me to grow closer to my family.
I feel very fortunate to have this place and family in my life. Being in Birchwood has given me the opportunity to learn about nature, survival skills, and be closer to extended family. I hope this 30 acre outdoor paradise stays in our family for many generations to come. This special place in Birchwood, is The Cabin.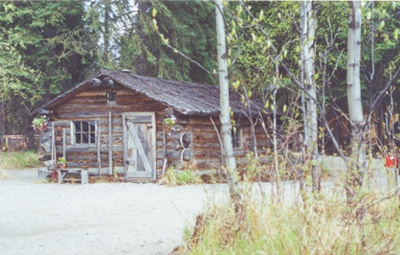 © Brian F., Melbourne, FL