Evergreen
April 3, 2018
The past is an iniquitous concept. It tantalizes with its sentimentality, its wrenching sensation of yearning for what once was reality. For a simpler time in which every surface seemed to radiate an iridescent hue of contentment. For me, this image appears in the form of a three-story A-frame household on the county boundary of Knoxville, Tennessee. It was shrouded in the inconspicuous shivering of three sprawling pines and flanked by a slough that flourished with reeds. Upon clambering up the staircase, a veranda wrapped around the margin of the house and swaddled the clamorous sliding glass doors. Heightened windows vertically extended nearly 40 feet before meeting the acute angle of the roof, where a brick smokestack steepled above into the azure firmament. Pewter plumes of smoke curled from the chimney on desolate wintry nights, the emerald of evergreens the only smudge of pigment bespattered upon the landscape.
Fragmentations of my undiluted pre-adolescent recklessness summoned themselves to the forefront of my mind.
2008
The brittle leaves rustled cacophonously when they were caressed by a nipping breeze.
A young girl with a significant overbite tossed her freshly-cut hair behind her shoulders as she beamed at the camera. Her pristine apparel suggested at a milestone: her first day of Kindergarten.
2010
A single brilliant flicker of color spiraled across the bleak landscape, squealing with delight as it halted at the base of the precipitous incline. Two canine forms dashed after the sled and showered the girl with an abundance of momentary warmth. Three sets of ears perked as they were summoned indoors by the lilting call of a mother's voice.
2012
After much pleading on the girl's behalf, she now stood eagerly with collared shirt, a tie, and a pair of dress pants on Easter morning. Her previously buoyant mannerisms dissipated when she received the disapproving glances and chasizing from her relatives. She remained slumped under the blossoming of a Bradford Pear, face stained with the red of humiliation.
2014
It was atypical to assemble the entire family in the midst of a dulcet June afternoon. She observed with indifference as her father gazed at her with consternation suffusing in his eyes, delivering the announcement that she had been anticipating for the past three years. Divorce, after twelve years of ill-fated marriage.
2016
When the girl's overbite was no longer apparent through the aid of orthodontics, her hair lengthy with strands of copper, body barely developing into that of a woman's, fate decided that one vital aspect was absent from her life. A picturesque, ardent dusk delivered the euphoria of her first kiss. An unanticipated peck from a companion metamorphosed into a tender embrace.
2017
She stole a final lungful of the earthy fragrance that permeated the innards of the house. Sandalwood and lavender. As the door of the U Haul truck slammed shut, she abandoned the brittle leaves, precipitous inclines, Bradford Pears, dulcet June days, and kisses beneath the sinking sun.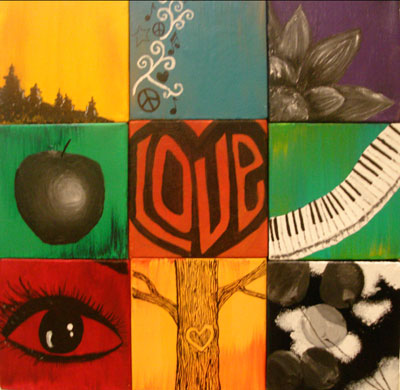 © Christina E., Henderson, NV