A Foreign Map, A True Identity
March 31, 2018
"Where are you from?"

This seems such a simple, every day question that most of us can answer without hesitation—but not for me. At least not for me four years ago.

Living in Shenzhen, the city touching and shouldering Hong Kong, I considered Hong Kong as my second hometown, where I could freely walk among the bustling crowd and small talk with strangers that I met. Indeed, I was already accustomed to receive caring and friendly response whenever I needed it in Hong Kong. It seemed impossible that Hong Kong could ever be such a foreign place to me. But it was, four years ago. In 2014, the fiery tensions between Hong Kong and mainland China fully enveloped when people living in Hong Kong started to occupy the Central District to win themselves the right to vote for chief executives, regardless of the decisions made by the mainland Chinese government. This became increasingly heated when some "radicals" participating in these activities started to verbally and physically assault the citizens of mainland China. The videos of very angered Hong Kongers swearing at us who hail from mainland China certainly added erratic sparks to this already blazing fire, but for me personally, the videos were frightening. I could easily understand the desire of Hong Kong people to enjoy an independent voting system. Yet it was intolerable for me to hear someone insulting my own country. Even worse, the Hong Kongers, whom I once considered as our family, were the ones who called the citizens of mainland China "the primitive". Angered by the "betrayal" of Hong Kong yet unable to alter the minds of protestors, I found all my emotions turning into uncertainty, helplessness, and most importantly, fear. I became increasingly fearful anytime I stepped foot into Hong Kong territory…our neighbor. Whenever I headed to Hong Kong, I avoided ever speaking with the Hong Kongers in Mandarin. I'd even imagine that if Hong Kong people recognized me as being from the mainland, they would spit fireballs at me or, at the very least, donk me on the head with a brick. The fear made me, who normally went to Hong Kong almost once every two weeks, avoid going to Hong Kong even once every month. For me, more than a river began to separate Shenzhen from Hong Kong. The hostility between two sides, rather than the geographic border, became the clearest boundary between the two cities. This fear drove me to avoid ever speaking with them in Mandarin.

Once, when I had to buy clothe alone in a shopping mall in Hong Kong and asked about the price, I approached a salesclerk and asked, "How much is it?" Yes, "How much is it?" in English. It may sound ridiculous, but at that very moment, speaking English was the only way that I could think of to conceal my identity and avoid attacks from the surrounding people. Though successfully receiving a response from the salesclerk afterwards, I regretted asking the question in English. The more patient that the salesclerk appeared, the more reluctant I felt to fake a smile on my face and my identity as a "foreigner" as well. After leaving the shopping mall, I hastened my pace to get onto the bus leaving for Shenzhen. When I finally stepped foot into the territory of Shenzhen again, I felt an unprecedented relief.

Now, fast forward to 2016 in Japan. In the summer of 2016, the families of my friend and I traveled to Japan together. Though favoring Japanese culture, I still found myself concerned about speaking my own language in public areas when I traveled there. This concern became sharper when I saw the elderly Japanese, fearing that the older generation might show hatred towards the Chinese because of the historical rifts between our two nations. One day after finishing our dinner in one of the most famous ramen restaurants in Japan, my friend and I decided to take a walk on the streets of Tokyo. Unfortunately, as we went further away from the restaurant, we found ourselves getting lost among the dazzling shops of Tokyo. My friend, who could speak Japanese, approached an old man for directions. I, on the other hand, hid behind my friend as she sought a map from the elder. In those moments of hiding, I removed my gaze from the old man to the food around me, resisting speaking even one sentence in Mandarin and disguising myself as irrelevant to their conversation. I pretended to be a local Japanese rather than a Chinese mainlander as hard as I could.

As we made our path away from the old man, I lifted my head and saw the sunset glow dim red above me. I recalled my best friend and I running to Disneyland in Tokyo, laughing and joking with each other in our own language without even a little concern of being overheard by the local throng around us. On that day, when we got lost, I saw the same intriguing view of the sunset. I was roaming under the same sky, but this time made completely different decisions regarding my own identity. I saw the eight-year-old girl running in the front and laughing at my ridiculous mask decorated by anxiety.

Trapped in my own insecurity in a place where I did not belong to the majority, I could not stop from masquerading myself as a local in foreign places. Yet at the same time, I was giving up being part of a majority to which I actually belong. A foreigner buying clothes in Hong Kong, or a Japanese girl getting lost in Tokyo—these are simply not me. Just the reverse, I am and should have behaved as myself: a proud Chinese citizen who speaks Mandarin fearlessly no matter where I am.

Since then, I have removed my mask. Arriving at Hong Kong again and getting off a bus, I start to look for the direction of the shopping mall I am going. I approach an old woman with a smile on my face and ask, "Is the shopping mall nearby?" This time, of course, I ask in Mandarin.

"Walk down this road, and then make a turn to the left", she answers in Mandarin, returning to me an even warmer smile. That smile—I thought as I walked down the road—essentially melted all my concerns and allowed my own identity to unfold under the glaring sun. Bathing in the warm rays, I think again of my losing direction in Tokyo. I started to realize that my friend actually did not speak Japanese fluently, which meant the old man probably realized where we came from. Even so, when the old man did not find any maps available, he steadily and caringly drew a map with his own hands with delicate lines and careful annotations. Finishing the drawing, he explained where to make a turn and what signs we should notice and even slowed his speech down, afraid that my friend did not understand what he was saying.

As he finished, he handed me the best gift I have ever received from a stranger. "So here you go," he smiled. After reaching the destination, I folded the map and put it in the layer of my purse where I always put the most important item. As the map slipped into my purse, the self-conscious anxiety that had lingered in my world gradually faded off, leaving a carefree heart of an eight-year-old girl.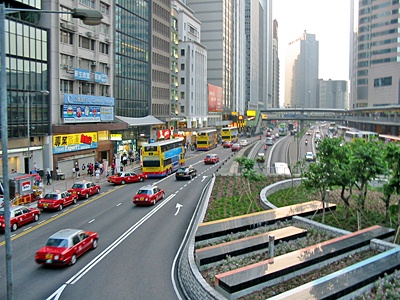 © Melvin L., Stuart, FL