Mirrors
April 5, 2018
When I am young, dark, and liberal of mind, my mother frowns down at me. I don't look enough like her. Or my sister. She draws thick black lines around my eyes, uses one thumb to stamp a bindhi, a mark of my femininity, across my forehead. She tells me I am a woman, and women were made to be beautiful.

Not feminine. Beautiful.
I watch her strides, study her posture. Her footsteps fall like feathers. The bindhi across her forehead glows like a third eye, one I don't think I have opened yet, and my mother, I realize, is a beautiful woman. I imagine myself one day, just like her.

When my father leaves her, he takes some of this beauty with him. Crumples it, in fact, stashes it away in the loneliest corner of his suitcase before boarding a flight out of the country and out of our lives. The woman he finds there is presumably still ripe for the plucking; I watch as my mother's beauty flickers away here.

What he leaves behind is three women and a house covered in mirrors. The furniture was never ours to begin with, but the mirrors--the mirrors are the bone we are thrown.

I watch them often. The reflection that stares back at me appears foggy, so I stare harder, wipe at the glass, press up against it until my nose is flattened and my peripheral vision blurred. The fog doesn't wipe away, and neither does my newfound self-criticism. Beauty uncovered smudges my face like dirt and oil not yet washed away, hair that hasn't been taught to hold back.

While I am watching, wanting, I look to my side, find my sister. My mother never calls her beautiful, which confuses me, because my sister is everything the sun is and more. Where my complexion dulls, her's shines, and while I stay stout, she radiates endlessly toward the heavens. Not that I or my mother would ever tell her, of course. Her beauty is of a nature my mother disapproves of, I suppose. She draws her kajol on thicker and paints her lips in red, not pink.

While we are watching, wanting, we look to the mirrors more than we do each other. Opaque windows that take more than they give. We look, lust, love nothing but what we see, until finally, one breaks.

I open my eyes. A small crack appears. I open my mouth. It shatters before me.

The glass that falls from it gathers around our toes. We stare at it. What it shows us is distorted. What it shows us is something not ugly, something broken but true. We look to each other for the first time in years. Someone grabs a dustpan. We begin to clean the fragments of what we once told ourselves we were--my mom laughs and smudges the bindhi where it marks my face. My sister laughs back. We tell each other we are beautiful.

Our direction shifts. When I reach adolescence I feel a shadow move from over me. I untie my hair. A button holding my lips together breaks. I look all around me, and find beauty being redefined in a hundred different ways. My sister towers over us in heels sharpened with hardened confidence. My best friend laughs in volumes that startle me, sings in rants that fascinate and compel me. My first love smiles and it dawns on me that lips parted so are much more beautiful than lips shut together like locked doors. I smile back.

When I have grown, I look into the mirror one last time. I find myself and smile. I am surrounded by beautiful women, and that includes me.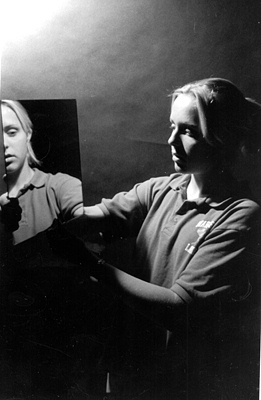 © Hadley B., Marblehead, MA