Tales of Summer Camp
March 21, 2018
My 3rd grade school year was coming to an end and I was excited for my long summer ahead of me.
Today my mom said, "This summer you have to go to summer camp since I have to work. It will be fun for canoeing and horseback rider"
I said, "that sounds like fun".

The next day which was the last day we had to write about what we are going to do over the summer. I wrote how I was going to summer camp and how fun It would be...A week later. Today is the first day of summer camp I can't wait. When we arrived we checked in under the shelter. After that, my mom left, and we got to play on the playground.
One of the counselors told me" You are in the blue group".
I like this because this was the oldest group and my older brother was in the same group. I thought it was cool because I got to be with the older kids. The thing is I didn't know that the next day I would be moved down to the green group. The went on and we played some games which I'll expand on later and we ate lunch and left. The first day of summer camp was over.
Our mom asked, "How was your first day of summer camp?".
We said "pretty good".
Off we went back to home.

Now I want to talk able the games. How boring and mindless they were. Only a few of the games were fun and we were forced to play them or we could not go to the pool. One of the games was called pterodactyl where literally the point of the game was to say pterodactyl and try to make some laugh. Until you were the only one left that didn't laugh. Another game involved running through a field trying not to get pelted by the counselors throwing water balloons at you. Their there more painful games like that, one being water kickball where the bases are pools and the home base is a slip and slide. The idea sounds fun but what's not fun is kicking a ball with your bare feet. We didn't end up going horseback riding unless you call making a team, coloring a horse, and rolling a dice to see who wins horseback riding.

I did end up making one new friend whose name was Davin. The sad part is that I haven't talked to him since summer camp. We would do everything together in summer camp. Play games, eat lunch, swam in the pool, etc. We would also buy each other things at the snack bar. When we arrived at the summer camp we had an hour of free time. The cause trends to form. The first was Beyblade. They are tops that fight each other in the arena. We would all bring our own Beyblades to fight in areas to see who would win. Someone had the best Beyblade at our camp. I tried to face him once. We put the tops on the launchers and wound them up. We said in unity 3...2...1 let it rip. Then we pulled the key out of the launcher. Both of our Beyblades launched into the arena spinning. His Beyblade zoomed straight towards mine delivering a blow… a fatal blow. Mine flew out of the arena and stopped spinning. The undefeated was still undefeated.
One day I asked my friend Davin "Do you have a 3DS?"
He responded with "Yeah I have one, why?
An Idea sparked through my brain "What if we bring our 3DS' tomorrow and play Mario Kart with each other in our free time in the morning"
"That's a great Idea," Davin said.

So we brought our 3ds' every day and played with each other in the morning. It was the best part of summer camp. Until that banned electronic devices.

We had a field trip every week and surprisingly most of them were pretty good. My favorite was when we visited arrowhead and got to walk off the fields and tour the locker rooms. We also go to see the suits that are very costly. The worst field trip was probably when we visited old Shawnee on a blazing hot day. We got to walk around and learn how boring Kansas was in the early 1900's. With blacksmiths and farms and all that kind of boring things. The best part when we got to saw wood. At least we got to learn about Kansas.

I learned that there were some good things, but mostly bad things about summer camp. I felt like that I could have done a lot more things I wanted to do over the summer if it wasn't for summer camp. Yah at summer camp I made a new friend and did some fun stuff, but there were bad things like the games that they up, the condition of the pool, the counselors themselves, and other things that made it worse. Summer camp was not anything like my mom said, we never went canoeing or horseback riding. It had nothing to do with nature and was just an outside daycare.

It was finally the last day of summer camp, and it at least it ended a week before summer break ended so I still had a week to do whatever. The best part was that I didn't have to do it the next year. At least I could say I experienced it.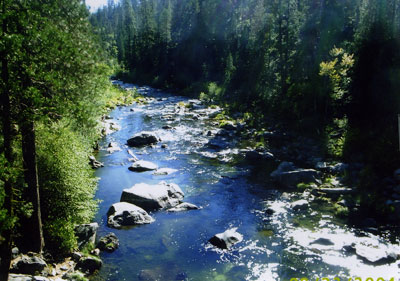 © Laycie C., Stockton, CA