The Power of Sports
March 2, 2018
Sports are one of the few things in this world that can bring people together. Perhaps the sport that does this best is football. Every Sunday, millions of Americans come together to ride a rollercoaster of emotions cheering for their own favorite teams. Some of the most intense and dedicated fans of the entire NFL are our own Minnesota Vikings. I've been to one Vikings game and it was one of the most fun experiences in my life.

Ever since I was a baby, both of my parents have been hardcore Vikings fans. They watch them whenever they're on TV and wouldn't miss a game for the world. My dad tosses on one of his three Vikings jerseys, turns on the soundbar for a stadium effect, and tunes into the game. He's been to many Vikings games before, but I was either too young to go or wasn't there to go with him. Finally at seventeen years old, I got the opportunity to go to one.

It was a gorgeous, sunny August day. My family and I were all loaded into our red SUV and on our way to visit my aunt and uncle at Sibley State Park. A gust of wind coming from my dad's window felt amazing as it was about eighty degrees and humid. I was smashed between my two younger sisters in the middle seat while my parents got to enjoy the comfort of their own seats up front. Sitting between my sisters was not a very fun task, mainly because they are both stubborn and are constantly fighting with each other. I somehow managed to fall asleep during the trip so I don't remember much of it.

When we finally arrived at the campground around noon, there wasn't a cloud in the sky. My aunt and uncle weren't at the campsite, so we assumed we could find them at the lake. So we made the short hike down to the lake and found my uncle Jeremy just about ready to take off with their black and yellow Sea-Doo jet ski. My aunt Becky and their two year-old daughter Kinsley were playing in the warm, brown sand. My sisters begged Jeremy to take them for a ride on the jet ski, so he did for about fifteen minutes then brought them back in.

After he docked his jet ski in the sand on shore, he came and took a seat by my dad and me. We started talking for awhile, then eventually got to the topic of football.

"Yeah, I have four tickets to the Vikings game tonight. I don't think I'm going to use them. You can have them if you want," Jeremy told my dad and me.
"Let's do it, Dad! That would be so much fun," I exclaimed immediately.
"I can't go, I got work early in the morning. You'll have to find someone else to take you if you want to go it," my dad replied.
I thought for a few seconds, then said "All right, I can do that!"

So I texted my friend Ethan and asked if he and his dad would want to go to the game. He said he'd love to, and had his dad call mine to work out all the details. After about five minutes, my dad told me that I was going to the game with Ethan, his dad, and his grandpa. I was very excited to finally be going to my first NFL game.

Once again, I slept the entire drive until we got to about five minutes from the parking ramp. We parked on the top level and began the ten minute walk to the entrance gates of US Bank Stadium. We showed the scanner our tickets, she scanned them, and then we made our way into the stadium.

I was amazed the moment I stepped in. I was in awe of the wave of purple jerseys walking all around the stadium, looking around in awe or trying to find their seats. A few dots of red, which are the rare 49ers fans, caught my eye. The smells of the overpriced concessions, consisting of burgers, hot dogs, nachos, cheese curds, and other items filled my nose with pleasure. I fell in love with the atmosphere immediately.

We finally found our seats, and they were a lot closer to the field than I was expecting. We were in line with one of the end zones, and about twenty rows up from the Vikings sideline.

I had an edge seat on the aisle, with Ethan and his family on the inside. We went and got some very expensive food at the concessions after about ten minutes of soaking up the sights of the stadium. The crispy and greasy cheese curds I ordered exploded with flavor in my mouth, but were definitely not worth the eight dollars I spent on them.

Then, the booming Viking horn sounded.

This means the game is about to start and the crowd begins going wild. While the horn is being sounded, the gigantic Viking ship shoots a massive twenty foot flame into the air. Fans all around are going crazy with excitement. Finally the players took to the field from the locker room, and the opening kick was sent off in the air.

Three hours later, the Vikings emerged out on top with a narrow thirty-two to thirty-one victory over the San Francisco 49ers. The energy in the air was amazing. All of the fans coming together to celebrate the win of their team, it's a great thing to experience. Sports really are one of the few things left that people can come together for. Our country has become so divided over the past few months and years, it was good to see people unite.
So we made our way back to the top of the parking ramp and found Ethan's dad's black truck. We all hopped in and talked about how good the game was for a few minutes. Eventually the chatting stopped, and I was left with just the silence and my thoughts in the dark backseat of the truck. I looked out the window one last time as we drove by the glowing US Bank Stadium and the river of purple jerseys flowing out of it.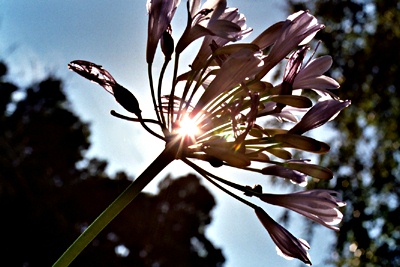 © Brandon W., Redwood City, CA