Lost Memory Memoir
February 25, 2018
The room is still; my shirt and collar stick to my back and neck. Why do they have to keep these rooms so warm? I sit and stare at my grandpa lying on his bed, with a fluffy blue blanket and snow white sheets. My mom is sitting next to him at the base of the bed, while I sit on a chair in the corner of his room, nervously twiddling my thumbs. Hoping he will wake soon, and praying silently to God that when he wakes, he remembers me. Grandpa has Alzheimer's disease, and his health is deteriorating at a depressingly fast pace. Laying my head against the back of the chair, tears begin to form. My heart sinks, wishing his brain was still functioning and he was still living with my grandma and not at a nursing home - Oak Crossing, what a name. Trying to sound like a happy place, when in reality it is a cheerless prison. My grandpa hates it. I can tell he always wants to go to his real home, even though he doesn't quite remember where or what it was.

Having been at Oak Crossing for about a year and a half, his health is pretty good, except his brain is garbled. Some days when we visit, he talks about the times of the past and looks at pictures with us. More recently, he doesn't talk and just wants to walk at a fast pace through the hallways, like a Nascar driver making his laps. He probably walks 15 miles a day, back and forth and around the dreary hallways, but that is one thing that seems to keep him happy.

At last, I see his head raise and his eyes look at us, which makes me grin. He stares at us for a bit longer and says, "Hi, how are you?" My smile climbs even higher on my face. Walking over to him, I say, "Hi, grandpa, did you have a nice nap?" Simply nodding, he rises out of bed. Watching him brings questions to my mind. Why does Alzheimer's shatter the mind, yet keep the body in much better condition? He is ill, yet healthy. He gets out of bed and immediately starts roaming the halls.

When my grandpa walks in the hallways, he does much better with only one person walking with him, so my mom tells me, "go and catch up." I chase after him and walk with him, creating some small talk. He looks at my white swim team jacket and inquires, "That is a nice jacket. How much was it?"
I chuckle a bit at his question and mention, "It was about 60 dollars."
Grandpa exclaimed, "Holy cow, that's expensive!"

My grandpa used to own a gas station, tire shop, truck stop and restaurant in Detroit Lakes. He was a businessman with a heart. He was involved in many local groups, such as the Chamber of Commerce, Rotary, Knights of Columbus, the Lions and the DL Booster Club. He was also a huge sports fan, following the DL teams as well as college and professional sports. He spent many hours watching sports on TV as well as attending Vikings games, Gopher games and the college world series. He donated to many causes and always tried to help those in need, buying coats for kids who could not afford them.

Companeros was one of his favorite restaurants and I recall many occasions eating there with him and sitting on the famous Companeros donkey for pictures. One of my favorite pictures with my grandpa is when I was about 2 years old and he was right behind me on that donkey. His smile beams happiness and looks so proud of me. He so enjoyed his Mexican food there that he would close his eyes as he ate each bite, as if to savor every morsel. We used to tease him about that and it's something I will never forget about him. Another memory is when he and my grandma played tee ball with my mom, brother and me in our front yard after a Companeros visit.
Continuing to wander the halls and converse, he turns to me and says, "I like you!" I know he recognizes me as someone familiar. However, it doesn't click; and he can't and hasn't said my name for a long time. I am conflicted, saddened and delighted at the same time because, on one hand, he likes me and feels that I am someone special, but on the other hand, he really doesn't know exactly who I am. I've experienced so many good memories with my grandpa; yet, I know those days are gone. It's like we have lost my grandpa multiple times as his dementia has progressed and his memory gets worse. Even though he doesn't know my name, I know he loves me and I know I will always love him.

Earlier in his dementia, we would walk outside around town, which was a lot more interesting and fun for both of us. When walking outside, I could sense my grandpa was a much happier man and that knowledge cheered me up, wrapping me in a blanket of comfort. He also used to talk more and interact with us. Now, he is stuck walking indoors because of his progression with Alzheimer's disease. Finishing our walk, a nurse asks, "Charles, would you like an ice cream sundae?"

My grandpa's eyes light up and he immediately responds with, "Yes." Following the nurse to the cafeteria, I tag along. Nearing the cafeteria, I smell something good, maybe roast beef and potatoes? My mom joins us and my grandpa shares a bite of his sundae, and it tastes cold and mushy with a dab of chocolate. My grandpa has always loved ice cream and when I say loved ice cream, I mean really loved ice cream. He would always have a couple of 5-gallon buckets of ice cream in his freezer. I think he was the Schwans delivery man's most valuable customer. He loved treating my brother and me to ice cream sundaes, malts, and root beer floats when we were younger. Finishing his ice cream, he returns to his room for a nap. My mom and I get him comfortable and tuck him in. Saying my goodbyes, grandpa says, "See you again, soon?"

"You bet!"

As we drive home to Park Rapids, I close my eyes and let the good memories rush over my mind and body. Looking out the window, I see a snowy still day, with piles of snow built up all along the ditch. I smile at my thoughts and feel glad, then my smile turns into tears of sadness for his loss of memory. When I think of this terrible disease, I get so upset and angry, squeezing my fists tight. Hopefully, a cure is on the horizon.
Throughout the ride home, I undergo lots of different emotions, from hanging my head in despair, to grinning, to clenching my jaw.

He passed away 2 weeks later.

I think of my grandpa always, which gives me a warm feeling deep in my heart. God put us on this earth to help others and to make a difference in other people's lives; and I can only hope I made a difference in my grandpa's life. I know he left a remarkable impression on me. He always had a sparkle in his eyes and a skip in his walk and that is the man I will remember, not the man he is today.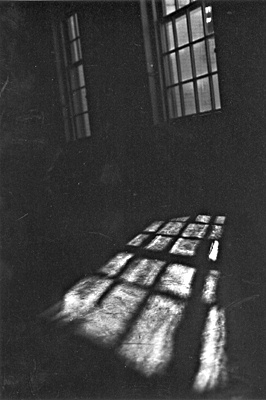 © Mary A., Fullerton, CA