In-N-Out Surprise
February 13, 2018
My mom suggested getting In-N-Out for dinner one night. My brother, Cam, and I looked at each other and smiled in agreement. Tonight we were dining out.

We raced down the stairs to our moms shiny silver car. We yanked open the doors and scooted into our designated seats. Since Cam was older, 15, he got to sit in the passenger seat, while I, being 12 had to sit in the back. My mom jumped into the car a minute later hearing us complain about being hungry.

"Are you ready?" my mom asked looking at us.
"YESSS!" we yelled.

She put the car in drive and we were off in search of a In-N-Out to devour.

We pulled up to the long line of cars outside In-N-Out. A teen girl wearing a uniform and paper In-N-Out hat took our order.

"So your order is: a cheeseburger ketchup only, a cheeseburger everything on it but no onions, a cheeseburger with lettuce and mustard, and 3 orders of fries?" repeated the teen with a mouth full of braces. We nodded with excitement to get our dinner. "It'll be 15.34 at the first window."

We thanked her and drove the car forward. There was a long wait because it was dinner time. So we were in stop and go traffic to the first window. My mom and brother chatted while I sat in the back singing to music. A teen at the first window repeated our order and we paid the 15.34.

As we drove to the next window, we looked into the restaurant and could see all the people making the fresh golden fries and frying up burgers. When we finally got to the last window, a teen asked us if we wanted ketchup. He handed us our order and we left.

Usually my mom would as one of us to check the food just in case. But this time she didn't ask because she was distracted in conversation.

When we got home I pulled out the blue ocean colored plates and my brother set the carefully wrapped food on the plates. When my mom looked at her burger she was confused.

"Is this one mine?" She questioned as she inspected the burger.
"Well it's not ours so…" My brother uttered nonchalantly as he walked out of the kitchen with his burger.
"Ugh they messed up my order." She said dropping the disappointing burger on the blue paper plate.
She walked to the phone and called the In-N-Out customer service hotline. She was on hold for a while. She got a woman with a southern accent.
"Hi, yes, my order was made wrong," she paused to listen to the other side, "No I don't want to go back in my car and drive over to the restaurant. I took my shoes off and I'm tired." She talked for a few more minutes till she hung up.
"So what happened?" I asked shoving french fries in my mouth.
"Well she is going to talk to the store manager and she is going to send us a gift card for 20 bucks," she was relieved that the problem was taken care of, "I'm going to eat this burger anyways."

A few weeks later we got our gift card in the mail with a little letter from In-N-Out apologising for the mix up. We went out and used the card the next day. My mom made sure to check the burgers before leaving the last window.

Later that year during Christmas time we received Christmas card. It was from In-N-Out. We didn't expect to get a card from them. It had glitterly snow around a In-N-Out store and old cars on the front. Inside it was a Christmas greeting from the company.

It was a bad mix up but a good experience in the end. In-N-Out will always have a place in our hearts.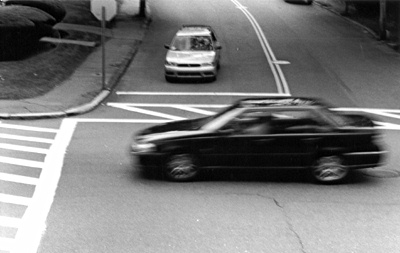 © Ed J., Marblehead, MA