Nonfiction Fairytale
February 13, 2018
Everyone knows the story, of a princess meeting her prince, and then of course the happily ever after that follows. Then again, not every happily ever draws from the same tale. This princess' story did starts with a tragedy. Not just for the princess, but for the prince as well.
     He grew up pulled between two parents, caught in a vile tug of war. She grew up in a cage, trapped from the goodness the world could offer. Both of them had been treated the same… different than anyone else. Told they would never be worth more than dirt, let alone be able to be happy… royalty of life. So they believed those cruel lies. That was all they knew.
            His upbringing was one of struggle, and of desperation. Searching and striving for approval from a mother and a father that wanted him out of sheer principle. What he received was apathy, at best. Cruel beratement, much more commonly, at worst. The pain continued to build, and build, and build. At last, his mind broke, the shattered pieces of his psyche putting themselves back together, crooked and wrong. Yet still she came to love him.
            Her upbringing was one of isolation and hopelessness. Verbal assaults constantly cast her way by mother and brother alike. She clung to hope that was not there, and day by day the weight of her abuse was crushing her. In order to keep herself together, she turned to vices. Distractions of the most dangerous kind. And still, when the dust had settled, she lost herself all the same. Yet still he came to love her.
     They met twice. Unlike normal fairytales it wasn't love at first sight. It was a kind of... comfort. For the look in one's eyes may tell the amount of pain held within their heart. They found themselves within each other.
           We fit. Although I knew he was perfect… I left. I left because I was afraid. I was afraid of treating him with the same cruelty I was raised with, but more than that, I was afraid of getting him caught in my crossfire. As it happens, all of my fear was for naught. For we met a second time… but this time, he stayed. No matter how hard I pushed him away, he pulled me closer twice with twice as much fervor. Again I thought, I was a danger to him. I didn't deserve him, and I would only drag him down to the pit with me. Yet, he stayed. He fought for me, and never ceased to fight. And eventually, he chipped away at my walls, until all of my truth was laid bare before him.
Once more, there was instant comfort, but there was so much more in store. Understanding, reassurance, and love. We learned. The more we loved, the more we learned. Learned to appreciate ourselves, the truth, our strength, and our past. Although we have two more years until this tale ends with a happily ever after, I see it resting upon the horizon; clear as the bright day.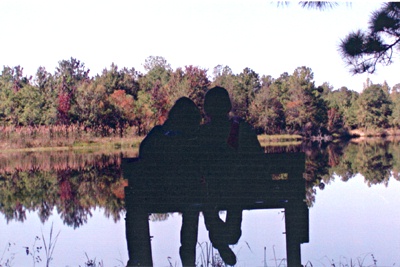 © Heather J., Slidell, LA