Murphy's Law Command Center
February 10, 2018
The words are written with a calligraphy pen on a piece of printer paper and stuck to the edge of the lighting booth with blue tape.

"What's that?" A seventh grade me asks,
"Oh, that?" She smiles at me. "Murphy's Law states that Everything that can go wrong will go wrong."

As I gaze across the mile long board of switches to the pile of wires that has never gotten fully untangled I can see what she means. Down below the theater is empty save for the messily lined up chairs set for drama class. Most kids are outside playing at recess right now but I'm getting a quick tuor of the lightings booth before the winter concert dress rehearsal. The older girl's footsteps bring me back to the problem in my hand.

I hold up the school's yearbook camera and say, "The screen says there's no memory chip, do you think the science room has one?"
She begins to climb down the metal latter to the ground and I flow, the camera clunking against me. She hops down and says "Ha we'll see but I bet you all the memory cards are full."

I step off the latter and replace the wooden DO NOT CLIMB barrier on the latter as we leave through the two large swinging doors.
Years later I come back. Back to the lighting booth and the theatre and the chairs set up for drama class. Back to the familiar whir of computer fans and the zillions of switches. But now it's different. A newly added piece of paper greets me and I remeber the hard work put into it - the map of all the lights. The binder full of cues still sits where it always has, collecting dust.
Everything that can go wrong, will go wrong.
And already has...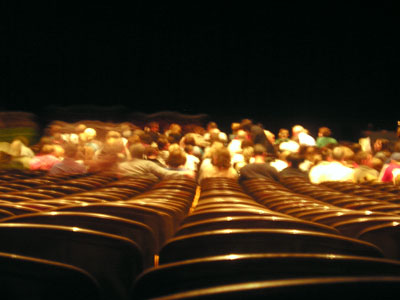 © Jessica P., Bethel Park, PA