Limerence
February 8, 2018
Before you knew what love felt like, you imagined it meant purity and kissing in the rain. One day you'd get hit by a car and meet your love, the stranger who calls for an ambulance. They'd stay with you at the hospital, and the two of you would bond over shared cups of apple juice they'd bought hospital cafeteria. You would be telling each other that you loved each other before the end of the month. Every feeling would be intense. You would lose your virginities together after about a year in a passionate whirlwind, and you'd be married about a year after that (the wedding having a beach theme, colors light blue and tan). They would file the taxes so you could avoid doing math. You'd cook them dinner every night because they could burn toast. You'd grow old together and have tattered but treasured scrapbooks filled with pictures from your beginning. That was love.

When you were older, love meant nerves and tenderness. It all started with a tumblr blog. She had one, too. The two of you were friends, and upon discovering this shared habit, you followed each other online. She carefully crafted posts about TV shows you had never seen before and you clicked like on them. She clicked like on all of the posts you reblogged about bisexual pride. It was only a few months later before you told her in person so there wouldn't be any room for doubt. Months upon months filled themselves with passed notes in math class, cheek kisses and cheeky smiles, outings that she never called dates. You wrote her name in every line of your diary, making note of every compliment she gave you, every time she held your hand or laughed too hard at one of your dumb jokes, all the while hoping and fearing and wishing for more. At the beginning of the summer she told you that she didn't have romantic feelings for you. She invited you to the lake she lifeguarded at, and the two of you unwound a tangerine and threw its peels in the lake for the fish to bite. You were left with the inside of the fruit, ugly and sticky and raw. You gave it to her to eat.

Now and then I am hit with memories of the beginning, of the oddly placed picnic bench near Currell and the strange alien smiley face graffiti on the oak tree he climbed on our first date, of sprinting up five flights of stairs after our first kiss to tell my roommates about it, of sly, shy glances at each other with Netflix on and pausing whatever was on to make out. Of the trivia night he took me to, where I learned that popsicles were first marketed around 1923. Of the dramatic oil spill movie we saw in theaters, the most exciting part being when I reached over and held his hand. Of that time he heated up frozen meatballs on his grimy stove and crafted me spaghetti.

As giddy as the beginning was, I much prefer the now.

Perhaps love is yesterday at the party. Sitting outside on a picnic bench near the soggy beignets, echoes from the dance floor escaping from a slit under the door as we passed time talking to each other. Goofing off, making trips to the food, enjoying each other's presence in the midst of a premature Mardi Gras. There is no drama. There are no nerves. There is no greater comfort. We left the area an hour after arriving and fall asleep that night holding hands.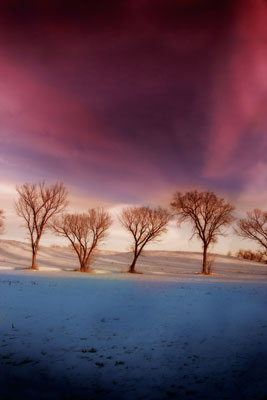 © Elizabeth H., San Bernardino, CA