Getting Koffi
February 6, 2018
We had waited 6 months for that day. That would be the day that I got to meet the new member of our family!

"Mommy mommy lets go I want to go meet our new puppy!" I spoke in excitement.

We all got in the White Mazda, Well, Mom Evan Alex, and I. My dad was at work, and so was my oldest brother, Caleb. As we were driving down the driveway, I couldn't stop jumping up and down on my seat, I couldn't stop smiling either! On the ride over, being a little six year old, I would ask "Are we there yet, Are we there yet, Are we there yet?"

"Not yet," Mom spoke softly, that is because she is used to me being annoying as heck! We were following instructions of the GPS.

It was about 10:00 AM, and we had pulled into this weird reddish, maroon building.

"Mom this doesn't look like an airport," I mumbled.

"I realize that, Lissy." Mom snapped. We pulled into the parking lot and we saw a woman walking. We pulled up to her and asked if she was from around here, she had told us she was. So my mom asked if she knew where the airport was because the GPS took us to the wrong place. She had told us the directions, so we thanked her and pulled out and our journey had begun again. Mom's face was getting red, like fruit punch. We now had to go another 45 minutes on the road. I was trying to start a conversation, but it was clear that nobody was in the mood to talk right then. We drove in silence for the whole ride to the airport. We finally made it, which is good, because it was just too quiet.

We walked to the airport doors and walked inside. We had to walk to the complete opposite side of the airport. We went up elevators, passed people, dodging luggage, and finally, we made it to the landing. We asked a security officer how long the wait would be because we got their earlier than we expected! The kind man told us that the flight would be landing in about 15 minutes, after that he told us to stand by the big white door. So we waited. After about 20 minutes the security officer walked up to us and asked if we were the ones who he talked to earlier about a puppy. Mom said yes, so in return, the security officer told us to follow him.

We followed him down the hall, passing the baggage claim, and right in the room to the left, there was an itty bitty crate! We all ran into the room, ready to meet our new little fluff ball. I was sitting right in front, by the door of the crate, so I could see the new little puppy through the crisscrosses of the door.

Quickly the security officer opened the crate and out came bolting a little puppy! He ran straight to me and started licking my face! His little tail was going a mile a minute as he jumped right on top of me! Obviously, it didn't hurt, nor did I fall, because he was only a few pounds! He was so soft. His fur was softer than a babies butt! :) (LOL.) Soon he jumped off of me and started to make his rounds to his new puppy family!

I remember looking back, while Koffi was in the middle of attacking me with kisses, there was a skinny woman looking at me in awe of how cute that scene was. (Remembering I used to be cute :(.) Everyone at the baggage claim stopped and stared at us, well they were probably staring at the cute snuggly dog presented to us. The whole room was filled with children's laughter and giggles. Everyone in the room was smiling, even the tall scary security officer! His kind eyes shimmering as his straight face slowly formed into a bright smile, making his face appear brighter. Which means that he isn't very scary after all!! My face hurt from smiling so much, it was officially one of my favorite days ever! We were in that room meeting Koffi for almost twenty minutes!! I didn't want the day to ever end... but of course, it had to. My mom had picked Koffi up and asked if one of us could carry his crate because she didn't want to have to carry him while he was inside the crate. Evan offered to hold the crate, and mom held Koffi. Only so we wouldn't argue about who could hold him. When we were close to passing the bathroom mom said that we should give Koffi a little bath in the sink, because he stunk a little bit. Mom and I walked into the bathroom, as Evan and Alex walked into the men's bathroom, right next door. We carried him over to the sink and decided that we would just rinse him under water and put a tiny bit of hand soap on him, to kind of get rid of the stench. While we were washing him, people would walk up to us and compliment our new adorable little puppy. Obviously, we would thank them and continue on with our brand new journey with this new bundle of joy! After a good 10 minutes of washing him, we decided he would be fine… at least until we brought him home to give him a proper bath there.

As we were heading home, Koffi was bouncing off the walls of the car… That probably explains why he LOVES car rides so much! Anyways, we were all fighting over who would get to hold him, and I remember being in the front seat, so I hardly got to see him if he was in the back seats… so being the little baby that I was I decided that I would put on a little temper tantrum, making my moms head hurt, so finally, she told the boys (Evan and Alex) to give me Koffi for some of the ride. After we got home, we all cuddled, and played with Koffi! He's been an amazing addition to our family and we love him very much!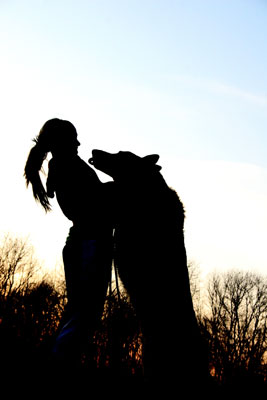 © Brittany U., Terra Alta, WV