8 Days
January 26, 2018
The pain in my stomach was getting worse by the day. No amounts of medications could ease my pain. It got to the point where I had to be rushed to the Emergency Room only to find out that I had a "simple stomach virus." Judging by the massive amounts of pain I was in, my parents didn't buy it so they decided that it would be best to go to another hospital for a second opinion. By the time we arrived, I could no longer stand up so I had to be carried into the office. Questions were asked and test were taken but the doctor claimed that they were unnecessary as it was clear what I had. Hesitantly, the doctor said "I'm sorry buddy but you need immediate surgery."

I looked up at the doctor and cried, "Surgery! I don't want a surgery!" to which he answered "I know you don't but you have a virus called appendicitis and it could really hurt you if we don't take it out."
I was rushed to the operating room and before they began the operation I looked up and asked my dad heavy heart, "daddy, am I going to die?"
With swollen eyes he replied, "No Nicolas. The doctors will take good care of you. You will be okay. I promise"
I woke up confused and disoriented. Not knowing where I was, I felt a wave of relief when I saw my parents faces.
"How are you feeling," asked my dad.
"I feel fine but I want to go home." I replied, still unaware of what was going on.
"Sorry buddy but we can't leave yet. You need to stay here a bit longer to recover," answered my dad.
"How much longer?" I asked.
"About 8 days," my dad responded.

I spent most of my time sleeping or admiring the bizarre patterns on the roof. Each day, I would repeatedly ask my parents when we could leave. I remember my excitement when the nurses told me that the next day, I would be free to go. That was also the first time I was allowed out of my hospital bed. When I climbed off the seemingly massive bed, I nearly fell over. The nurses rushed to help me back on the bed and explained that because I had been lying down for so long, I would need to relearn how to walk.

On the drive back home, I felt like a superhero, sitting in the back of my Prius. I didn't know what had happened but judging by the amounts of appraisal I was receiving from everyone, I understood that it was a big deal. It wasn't until I was a few years older when I began to understand the complexity of the situation. At five years old, I didn't understand things like surgery. I didn't understand why I was surrounded by nurses and connected to tubesor why I couldn't go and play outside. All I understood was that eventually, I would be home.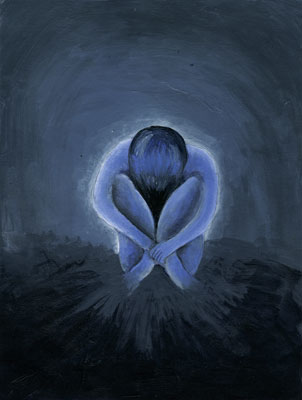 © Becky F., Sacramento, CA