The English Teacher
January 25, 2018
I remember every detail like it was yesterday. It was the first week of May 2017. My yearbook teacher, Mrs. Phillips wasn't feeling so good for a while. Mrs. Phillips was also an English teacher and was a huge part of the school community. She did cheerleading, track, yearbook, dances, etc. Mrs. Phillips had a daughter who was a toddler and a husband, who she loved very much.

Tuesday she warned us that she wouldn't be walking around because she wasn't feeling too good so "do whatever." The next day she tried to pick up a piece of paper she dropped and then felt light headed. Thursday came, I went to see her in the morning and she looked awful. Mrs. Phillips wore track clothes, hair up, and no makeup. She doesn't look like this often, so we knew she was sick. Friday came and she wasn't there. "Good, she is getting better," I thought. Going home that night positive she, would get better over the weekend.

That Saturday I don't remember much from that day, except the time around four o'clock. Alexis, my older sister, came home from hanging out with her friends at the beach. I was about to watch a movie when she asks, "Hey Alison, Karley and I are going out to Olive Garden, wanna come? Karley said she would bring Mason if you came." I hadn't seen my best friend Mason, in a while, so I go. Around seven we leave, because it was gonna take 20 minutes to get there. We got in my sisters blue bug and head to the restaurant.

It was so much fun riding over. My sister had an AUX cord in her car, so we plugged in my phone and jammed the whole way there. Listening to our favorite songs and rocking the car side to side. The red light before we had to turn, my friend Alexa texts me.

Alexa was one of my best friends at school. Her mom was a teacher at the school and was very close to Mrs Phillips.

"Hey I have to tell you something but you can't tell anyone." Alexa texted
"Ok, what's up?" I texted
"No, you have to promise."
"I promise, what's going on?" I sent worried.
"Mrs Phillips is in the hospital, she's on life support Olivia, she may die."
I've never felt myself change emotions so quickly. The whole world stopped. "Why her Why now?" I thought. Mrs Phillips and I were very close. We had each other's number and texted almost every day, she was my friend. I tried calling Alexa but she didn't answer. I started texting her again.
"I'm so sorry Olivia. I love you so much, we will get through this." I just couldn't believe it. How could this all of happened in a matter of hours.
Alexis and I pulled up to Olive Garden and I tried to get more information out of Alexa. "We are here!" Alexis said and looked over at me "Wow, what's up?" I look at her with glazed over eyes.
"Nothing… I can't tell you."
"Olivia, you can tell me anything" I knew it was true.
"You can't tell anyone"
"I promise. Olivia." Alexis says. I sobbed before I could say anything else. I felt if I said it out loud then it would mean it's true, and I didn't want it to be. "Olivia calm down." she says rubbing my back, trying to comfort me.
"Mrs Phillips is dying." I whimpered
"Oh my god, Olivia. I'm so sorry."

I couldn't control my tears. How could I? My favorite teacher is on her deathbed. Our friends were inside waiting for us. Alexis has also been through this, her sixth-grade teacher died also a few years back. Alexis said she would take me to her if I really wanted to, after dinner. We then walked inside, I handed Alexis my phone so I wouldn't worry about it. It didn't help throughout dinner, I could imagine her in the hospital barely surviving.
The dinner took forever, but after I knew I couldn't go to the hospital. I would be a wreck and if she was awake, it wouldn't help her to see me so broken. I just wanted to go home and be by myself to cry.

We get home and my parents are in the living room. My dad is watching a sports game and my mom with her glasses on her IPad, looking at Facebook. My sister and I acted like we knew nothing about Mrs. Phillips, Alexa didn't want anyone to know.

My dad puts the TV on mute and my mom shuts her IPad off, she patted the seat next to her. I came to sit next to her. "How are you Olivia?" my mom asked
"Good, you?" I lied
"Alright." It was silent for a minute "Olivia, I have to tell you something-" my sobs interrupted her "You know?" she asked. I nodded my head and we grabbed each other in a hug. We both knew Mrs. Phillips was in the hospital, dying.
After some moments, we pulled back and wiped our tears. "How did you find out?" my mom asked.
"Alexa told me." I sniffled as she nodded "How did you find out?"

"Some of my co-workers know her at my school." My mom is an assistant principal at an elementary school.
I couldn't sleep that night. It was too close my eyes because what if Mrs. Phillips was also, forever. While I was awake that night, Mrs. Phillips died. She left school, her daughter, husband, family, friends, me, here.
The timing was terrible because when there were grief counselors were at the school, I would be in Tallahassee for a school field trip, National History Day. From Sunday to Tuesday I would be gone from the school. Sometimes I wish I was at school to help people, but it was mostly just to help me.

The weekend started off trying not to tell the people who I was going with, Livia and Kira, that Mrs. Phillips died. We didn't know that all of us knew. We all didn't want to say anything. But in the end, my mom broke the ice and we all knew. We hugged each other for comfort. Livia and I were the closest to her, we were both on the yearbook staff. We all knew this would be a hard next few weeks.

The weekend went by fast but seeing school on social media and all that was there didn't help with staying strong. Going back Wednesday, my mom warned me to be strong because everyone else would be ok. Days before Mrs. Merola talked to me about it and said she would take me Wednesday to school. The whole school this would be hard for me.

The next day Wednesday, May 10th, Mrs. Merola and Alexa came to pick me up at eight o'clock. We stopped at Dunkin for breakfast. We talked about anything but Mrs. Phillips because it was so hard. Even being around them brought back memories of Mrs. Phillips.

We walked into the school and I was already shaking. I was so sad. I had already seen her door on social media. It was filled with posters and flowers. Just seeing a picture of it was emotional, but seeing it in person was even sadder. I paused at her door and I couldn't hold it in any longer. I was one of her closest students and seeing the door made it a reality. I started to sob at her door. My science teacher saw me and ran toward me to hug me.
I couldn't handle all of these emotions I had. The door, the colors, and flowers reminded me of her. When I went to my first class, my principal pulled me out. She put me into this room with a man who was said to be a grief counselor.

I was with the grief counselor, alone. They then decided to call other people in. Brooke who was the co-editor with me in Yearbook class, Livia who was on the staff of yearbook, and Haley who was on the cheerleading. We were all together on the field trip. The yearbook class was a big family and it was nice to be at least with two during this. Together we did many things. We talked, cried, made posters for her door and made letters for Charlotte so she would know about her amazing mother.

Around lunchtime, Livia and I went to go put up the poster on her door. Livia hadn't seen it yet. So going there I knew I would have to be the shoulder to cry on. We got there and I was right. We both started to cry after we put the poster up. Walking back we didn't have to say anything. We knew that we would be there for each other if we needed anything.

Yearbook class came around and it was time to talk to the class. I wanted to be a leader and tell them to be strong. But in the process of telling them that, I started to cry and I couldn't get through it all. Brooke came up to help me and we got through it together. We told the class that we were here for them. Yearbook class was a family and we should never be embarrassed with each other but to lift each other up in this hard time, like Brooke did for me. We then decided to make stickers in memory of Mrs. Phillips to put in all the yearbooks. It said "In Loving Memory of Mrs. Aimee Phillips 'If love could have saved you, you would have lived forever.'"
The grief counselor said I could go back to class but I didn't want to. I didn't want to listen to anyone talk. So I went to Mrs. Merola's' room but she told me to go the media center. I walked there and they were making posters for her celebration of life. I helped out a lot, but I knew there were some more pictures of her on some of the yearbook cameras.

The yearbook camera was in her room. I believe I was ready, so I begged the librarian to open the door. She opened the door and you could feel the weight in there. The teacher started to cry and so did I because I was in here every day. She sitting at the desk and me at the desk all the way toward the right wall. I got the camera out of the closet. Looking back at the room it was like she left just to use the restroom. It looked like she was still there. Walking towards the desk I see the name I drew on the side of her desk. "Aimee Phillips" it read with color. I had to go back in again to get something else and Brooke wanted to go with me. So we went in together and the same thing happened. Brooke had to leave just like the librarian did. I felt terrible about everything that had happened that week. It was hard for everyone in that school.

The next Friday, May 12th, was the celebration of life. This is where people came to get through this, it wasn't as sad as a funeral but not as happy as a birthday party. It was at the Pelican Beach Clubhouse. Pulling up to the clubhouse we saw many cars and firetrucks. Firetrucks were there because Mr. Phillips was a firefighter. Walking up we saw rocks of the color purple, Mrs. Phillips favorite color, drying outside.

We walked into people wearing purple, food, and pictures all around. Pictures of when she was young, pregnant, at school, with family, etc. I saw the yearbook teacher before Mrs. Phillips, she nothing but bitter to me. I then saw the yearbook teacher and she wished me well. I also saw fellow students having fun. It was nice seeing them overcoming from this awful time.

My mom and I left early before I could see Mr. Phillips. She knew it was a bad idea for me to see him. I was angry at the time but now I understand why we left. It was the best thing for me.

Mrs. Phillips had a huge impact on the county. She made a huge impact on me. From her death, I learned to live life to the fullest. Made me learn to have fun and to let the little petty things go because when you are on your deathbed you are not going to think about the little things. You are going to think about the big things in life. Your family, life, love, memories, and happiness. I wish to be a teacher like Mrs. Phillips and impact people's lives like she did mine.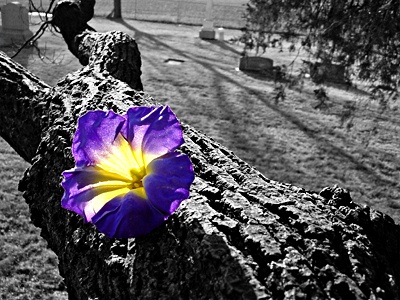 © Greg K., New Lenox, IL