About Me
January 24, 2018
It gonna tell you where I came from and stuff that I like to do. Also it will tell you what I experienced as an immigrant and not speaking english as my main languange. 
Chapter 1: Memoir

Hi my name is Paul Malong and I was born in Philippines. My parents got divorced when I was around 7-8 years old and since then I have lived with my dad's side of the family.  I lived with my aunt while my dad was working in the U.S. and he always sent money home. A few years later,  he saved enough money to buy us plane tickets and got all of our documents ready. He wanted us to stay with him and also go to school here because the education in America is much better.
I moved to Dexter, MI when I was in 6th grade and didn't know anyone. At the beginning, it was very hard for me to talk to people because I didn't know how to speak English. To me, it was like a whole totally different world or planet. I didn't understand anything anyone was saying to me. I still remember my teacher taught me the lessons with Google translate. I felt I was left out and would never catch up with other students. I wanted to learn but it was hard for me to understand. My dad told me that if I read English books and talked to the other kids, my vocabulary would expand so I did what I was told and surprisingly enough it worked. Fortunately, I made a couple of friends who helped me with my homeworks and projects.
Teachers told us that middle school will be a whole different level of learning and they were right. It was much harder and I thought that it would stay the same till' highschool is done. So many things have changed. We didn't have recess, we received homework everyday, and what made me frustrated that the assignments were much harder than they used to be. I thought I I should do something to help myself out and then I found doing extra curricular activities and sports were very beneficial to me. I joined in band and baseball team. My dad and grandpa used to play baseball when they were in highschool so I thought to myself that I had to continue the legacy.
In the beginning it was super hard for me. I was like a baby bird learning how to fly. I eventually learned how to play and not too long after I was playing like I've played the sport my whole life. Another sport that I enjoy playing is football. It is very hard if you don't know what you're doing and could lead to serious injuries. I still remember last year when the football team went up against Lincoln. I was playing cornerback that time. They weren't very big, but they were really fast. If I could remember correctly it was a quarterback sweep that they ran on my side. My heart started to pound harder and faster as he came towards my way. It took me a second to realize that I had to get off my block to make a play. Once I broke the block from the wide receiver I ran as fast as I could to the play side. He apparently wasn't looking over to my side and I lowered my shoulder to hit him and all I can remember is that I dislocated my shoulder. As the trainer made my way to me to make me feel better I looked over to the other sideline and the guy was puking.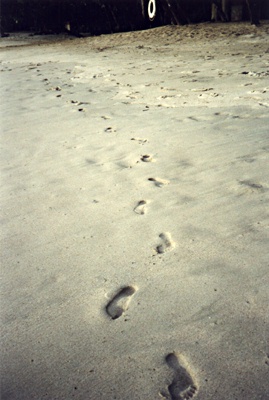 © April W., Rogersville, MO