My Grandfather's Stories
January 16, 2018
This is for my grandfather, who drove three curly headed boys home from their mother's funeral in a cop car. Who put latchkeys around their necks and left for work, clearing away failed cancer treatment debt like dead bodies off the concrete of Chicago. Who carried sleeping toddlers up to bed, then sat at splintered desk to write stories about an empty king sized bed and a garbage bag of wigs dragged out to the curb.

And for my grandmother, the ex-nun at a piano bar on her first night free of the convent, shouting lyrics to songs she never learned to the navy uniform leant against the wall. Classically trained, educated elegance floats through the venue in a short, swishing skirt, wine glass grasped between thin fingers. Bright blue eyes seeking a family of curly boys and cop cars to replace hymnals and twin sized beds.

And for their youngest granddaughter, Marjorie, who learned to recite her Miranda rights with a pacifier wedged between her teeth. Six years of blazing red hair builds contraptions of cardboard boxes, fraying rope, construction paper with tools swiped from a dusty garage work bench. Homemade paint splotches splatter rosy freckles, voice cracking as she busily sings lullabies from the only grandma she's ever known.

And some days I forget how to sing, in the wine red car with the police sticker on the bumper, blue glowing console illuminating twitching hand on the gear shift, and the road blurs, white lines criss-crossing into distant black top, and I brake for animals that aren't there and I turn crackling stereo louder and pull into empty parking lot to honk at fluorescent overhead lamp and I shout and I yell.

Because my father didn't have anyone to check over his math homework.
Because my grandmother spent 19 years isolated before she had the privilege to tape our art projects on the refrigerator.
Because my grandfather slept alone.
Because Marjorie will never read his stories.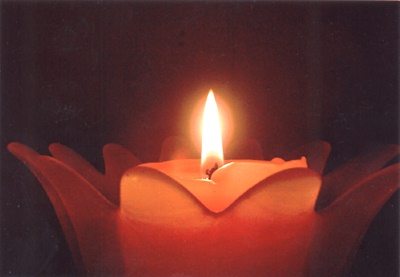 © Sayda, C., No. Bergen, NJ