Taking a Stand Against Discrimination
January 7, 2018
It was August 14, 2010, when my father made the announcement that we were going to spend a whole year in America. While I was worried that I would not fit in, at the same time I felt excited about living in a new country since I had lived in Korea all my life. I yearned to be in America where I could experience a level of diversity and culture that I never had before.

But as soon as I arrived, I realized that living in America was not going to be as easy as I expected.

In fifth grade, our class was assigned to do a group presentation. Shiori - a half-Korean and Japanese student who I had just met - and I were the only Asian students in the class. Right as the teacher started to randomly assign students together, the atmosphere in the classroom became unusually tense. Panicked whispers went throughout the class. No one wanted either of us in their group and it wasn't just racism: Shiori couldn't speak a word of English and I had trouble expressing myself too. Eventually, Shiori and I got assigned to the same group and everyone in the class now heard the disgusted reaction of the rest of the group.

"She's dumb, she can't do anything!" they said before bursting into laughter.

I was enraged. All along, I noticed that there was something different in the way that the kids looked at us and treated us. However, I feared that when I asked them what was wrong, they would ignore me, or that they would think of me as a freak. But in that moment, I thought otherwise. I stood up from my chair, fixated my eyes on the kids, and finally opened my mouth to say something...Except, what was I going to say? I was then enraged at myself for not standing up for myself and Shiori.

Still, I realized that maybe there's some other way.

I thought that I could make this better by helping Shiori with adjusting to the new environment and helping her whenever I could. I was committed to helping her with the project we were assigned and fight against the prejudice I saw from our fellow classmates. I met with her many times throughout the week and helped her with doing presentations and working on the class project together.

I used the Japanese I learned in Korea through a TV show--though very little--to try to teach her the best I could. We watched bits of American movies without subtitles to help her improve yet I quickly realized that she needed a lot more work than I had expected. But whenever she struggled, I made sure to work harder to help her become more fluent and confident.

After the last session of helping her, we met again in school on the day of the presentation. When we were asked to sit in the groups, our group was already gathered in the back corner of the classroom, giving us--yet again--the disgusted looks and even pitying looks. Then, it was our group's turn. We all stood up to walk up to the front of the classroom.

"Start!"

It was Shiori's turn. Everybody was looking up, getting ready to laugh at and make fun of her. Except, she did perfectly. She proved them wrong. Everyone sat there blankly, awed at Shiori's work.

I could tell that even Shiori was surprised at herself. While she thanked me for helping her, she also seemed proud of herself for successfully finishing the project without a problem. Throughout the rest of the school year, she constantly improved in school, became more confident in class, and more willing to express herself.
When I went to the United States, I believed that America was where diversity and different cultures were embraced. However, after my experience in elementary school, I realized that discrimination and bullying are inevitable; it will always happen in some form. Yet even when I was disappointed that America was not exactly the place that I had dreamed of, I obtained a priceless lesson about how important it is to stand up against intolerance towards myself and most importantly, others around me.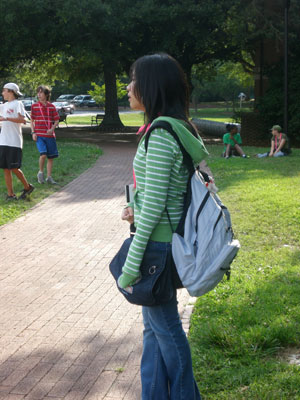 © Lucienne B., Parkland, FL