Paw Print Made Into a Heart
December 21, 2017
To grow up with the mother I have you better hope you're in love with animals. According to the AVMA only 36.5% of the U.S. population has a dog living in their household. The way I grew up everyone should own a dog, or for that matter any pet. Even though my mother is a giant factor in my animal loving/obsessing life my job has really influenced me to want to pursue a career with animals.

You know you're working at Brentwood Animal Campus Vet Clinic when you've got your musty, dirt infested, yellow, soaked in dog slobber, stinking up your whole entire room shirt on for the entire weekend because your shifts are so long. I can't complain, it's the best job i've ever encountered. You'll never hear me complaining about my job. I mean if you spend 16 hours of your weekend playing with dogs, cats, potbelly pigs, guinea pigs, and bunnies would you complain? Animals having a massive place in my heart means work can get laborious sometimes, people euthanise for the wrong reasons, don't care to make sure their animal has enough food for their stay, and some don't even bat an eye when you tell them their animal got bit. Working in a social boarding facility means you need eyes on the back of your head, hands, neck, back, legs, everywhere, and I mean everywhere. I could tell you a lot of riveting stories about my job, getting dogs who have no eyes and our sweet golden retrievers who only have 3 legs. But with all the chaos going on within that job there's one incident that will always stick out to me.

June 21st, it's my best friend Amanda's birthday. Wish I could be spending it with her but I've got a 7-11 shift on this 89 degree day. I haven't even gotten out of my '97 Jeep wrangler when sweat is already pouring off my forehead. It's not the end of the world that I have to work out in this heat but I would prefer not to. I lock my jeep and start to head into the office, Gail is walking behind me with a crockpot full of chilli, like usual and Brittney had just slammed the front door behind her, also like usual. I'm 2 feet away from the door when I can already hear the yipping of a young puppy. I walk in and of course he instantly is the 5th puppy I have been tempted to take home this week. He's also a lab, great, my all time favorite breed. But curiosity strikes and the question comes up to why this puppy is up front. Turns out he was brought over from the vet. His previous owners brought him in after a week of having him saying he bites and barks. You're probably thinking what i'm thinking… THAT'S WHAT PUPPIES DO. They arranged for him to get euthanised but after reading my introduction you know damn well I wasn't gonna let that happen!

Jodie, (our crazy office lady) decided she was going to adopt him, already knowing my parents would say 'hell no' I offered to take him if it didn't work out with the old cranky dogs she already had. What do you know, the next day she texted me offering me 'Wick' stupid name, but I mean it's better than his previous name, 'Ralph', people are just cruel. I called my mom but it really just ended with me hanging up on her because I was not about to let this innocent dog go to another negligent home. My boyfriend and I love the movie Brother Bear so we decided to name him Koda after the young cub in the movie. School was starting so we needed to decide where we were keeping him during the day. My dad works 3rd shift and since Koda wasn't kennel trained yet he would wake up my dad if he were to stay there. We later on were able to make out a deal with my boyfriend's parents. Bringing him home was one of the happiest days of my life. Most think my boyfriend and I don't have the money or maturity to take care of a dog but we sure showed them! Working at a vet clinic I get crazy deals on shots, heartguard, nexguard, frontline, dental stix, grooming, and more! Funny how at age 17 I can take care of a dog better than the 80 year olds who just wanted to dump Koda. They're pretty lucky I wasn't there when they surrendered him!

So, do me a favor the next time you're going to pick out your dog. Do. Your. Research. People come on! Get multiple opinions on certain breeds of dogs, realize if your animal is from the Humane Society there's a 86% chance your animal will have multiple breeds in them, and last have the love and passion for animals if you would like to own one as a pet.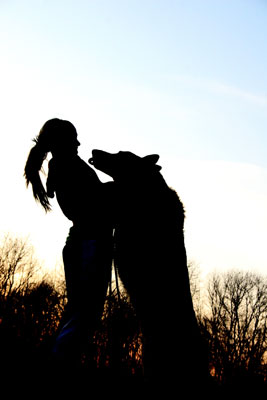 © Brittany U., Terra Alta, WV