The Second Language
November 30, 2017
I remember my mom telling me that she made a point to read and sing to me when I was still in the womb.  After I arrived, my days continued to be filled with sound — the sound of words and the sound of music.
**********
Blue horse, blue horse, what do you see?
I see a green frog looking at me.
I was sitting on the tan carpet floor in my onesie fiddling with a mini xylophone.  Instantly, all my attention was locked in on my mom's voice and the colorful pictures in Brown Bear, Brown Bear.
The playroom was filled with Tonka Trucks, action figures, baby drum sets, and toy music blocks.  Parked in the garage were tricycles, baby tractors, and scooters.  But in the family room, there were shelves.  A gigantic maple built-in shelf, the most notable feature of the room, was lined with hundreds of books.  It featured history books, abridged illustrated classics, Bible stories, and baby song books.  Piles of books were neatly stacked all over the house.  There were many whose edges were frayed from rereading, and there were those whose edges were soon to be frayed.
Every single night after my mom helped me brush my teeth, she would scoot me up the stairs, and we would snuggle on my bed.  She would have a stack of books in her arms.  When I settled down, she began to read.  She read perfectly, with the right pitch, the right rhythm, and the right tone.  Duck for President.  Is Your Mama a Llama? And, my favorite, James the Red Engine.  She read tons of books - picture books, rhyming books, and baby board books.  To my delight, she even sang some of the books like The Wheels on the Bus and If You Were My Bunny.  I remember I would ask her to reread those stories so many times that she actually memorized them.
As the years passed, and I began to read on my own, library visits became a weekly habit.  "Are we going to the Main Library, the Mark Twain, or the Iacoboni?" I would ask.  Sometimes it was difficult keeping track of which books belonged to which branch.  Going to the library was like going to a candy store — all the rows of treats waiting to be devoured.  I loved the adventures of Robinson Crusoe, the imagination of The Twenty-One Balloons, the humor of Ramona Quimby, and the wit of The Phantom Tollbooth.
**********
A loud rumble rattled the windows as a large, white truck pulled up the street.  I watched from the front door as it backed into the driveway, and three men hopped out.
"The piano's here!" I trumpeted.
A breeze of excitement and mystery gushed through my five-year-old self.
Nervous at first, I started learning to read all the notes — A B C D E F G.  Simple little melodies like "Row, Row, Row Your Boat" and "Yankee Doodle" were introduced — easy patterns of pressing down the black and white keys.  Then I began to recognize what all the little lines, squiggles, and dots meant.  I continued on to scales and chord progressions.  Soon, I started reading more advanced songs - sonatinas, waltzes, rondos, preludes, and dances.  I memorized songs, and I have performed at countless recitals.  In time, I picked up the guitar as well, beginning with classical style and eventually transitioning to acoustic.
There are only seven letters in the musical alphabet, but they can say so much.  From Chopin's "Arabesque No. 1" to Francis Scott Key's "Star Spangled Banner" to Mozart's "Rondo alla turca," they all use the same basic letters in a way that is infinitely more than unique.  One can even play the same piece with different tones, varying touch, and have a completely distinct result.
Sound.  The sound of music, not just of words.  My mom would always sing when I was little.  She knew by heart dozens of children's songs, including the Five Little Monkeys, John Jacob Jingleheimer Schmidt, and Jesus Loves Me, This I Know.  Each day would also be filled with classical music, operas, or Christian worship from the radio.  Music was always there for me — a special language with which I could have a dialogue.  It absorbed me into its wonderful and alluring world.
**********
Fourteen years old.  High school.  My desk at home.
"Are you done with your readings?"
"Not yet.  There's still some chem stuff to read in Chapter 4 and one of those stories in Excursions in Literature, a chapter in The Scarlet Pimpernel..." My voice trails off.
High school is where I am wading through an ocean of novels, anthologies, and textbooks every single day.  Today, I read much more than when I was little, yet it is not the same.  I sometimes read just to "get it over with." Assignments flooded my days, and I stopped reading on my own for pure enjoyment.  Gone are The High King and Rifles For Watie.  Now, books are assigned for me by teachers; I read for information and, yes, sometimes for a grade.  Mostly, I do enjoy the books I read, but I just don't have the time or the desire to indulge for hours in a novel.
During little breaks in the school day, I sometimes would stroll over to the piano or pick up my guitar.  Opening a music book, I would start to read and play the notes of Aaron Copland's "Piano Blues No. 1." It is soothing. Simple.  Freeing.  Or I would toy with the first few lines of an Arabesque.  Spiraling.  Affectionate.  Even playing a movie theme, like The Lord of the Rings or Disney's Up, is a beautiful treat that can evoke hope, yearning, and comfort.  The way that a melody can make me feel joy or even reveal to me my mood is one of the most arresting facets of music. 
I have been a reader all throughout my life.  When I was younger, I loved to read books in my free time, and now I prefer to read music.  I used to visit the library often, and now I am more prone to browse music sheet websites.  Nonetheless, reading will always be a part of my life — whether it be books or music — just like my mom envisioned for me before I was born.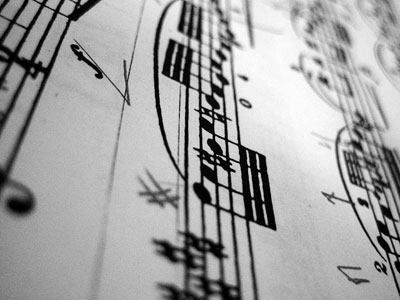 © Kimberly C., Houston, TX