The Trip of My Life
November 21, 2017
The Adirondacks, a beautiful part of northern New York with mountains, lakes, creeks, camping grounds, and much more. Over the past summer vacation, my brother had decided that he was going to apply to the Air Force. When he had planned to apply, he decided, since he was leaving, he wanted to do something special with, me and a friend.

My brother is tall but not quite as tall as my six foot four stature, he has short golden hair and he is athletic. He also adores fishing because it is fun for him and he has been fishing since he was younger. We would go fish around the canal near our house. Since we both enjoy fishing, when he was given a date of departure he really wanted to go for one last trip. One night he approached me and pronounced, " I planned a trip for me and my friend Bill to go to Old Forge in the Adirondacks do you want to come? We can fish and do all the things we've always wanted to do".

In the past, we had gone there with family and did many different things although we never fished. We wanted to go and try fishing there. My brother had stayed at Old Forge camping ground before and he liked it, so that is where we decided to go and rent a cottage for 3 days.

We went shopping for chicken, steak bacon and eggs to cook, bought bottled water and Pepsi and any other supplies we needed things like bug spray, lighter fluid, and charcoal. In the morning, we went on our way. On the way there, the three of us talked, and we tried to think of any plan of what we wanted to do besides fish. When we arrived, we unloaded the truck and got the cottage situated then got our poles, and walked to the campground's pond to fish. When our poles bent and jerked we reeled in and after two hours we caught a few decent size smallmouth bass and a perch with stripes. We had some fun, then we decided to head back to our camp and started cooking steak for our dinner, had a fire and headed off to bed. The next day, we went to the town and ate breakfast at my favorite diner, then we went to the main lake which was a boat dock in one of many smaller lakes all tied in together and fished off the dock. At about 11:00 AM, when the boat rental place opened, we went there. My brother really wanted to go kayaking and go to different marshes in the lakes. We rented the kayaks and began journeying. Then my brother's friend who is short and has brown hair and beard began to get water inside and started to sink so we turned back and got a new one. When we got a new one we started going again but it started getting wavy and I started to get sick. I went to a dock and they rode around and kept fishing. After 2 or 3 hours they caught nothing and decided they were done so we went and returned the kayaks. Then went back to the camp and ate. When we arrived,there-there is a park there that opened that day and so we decided we would go to it. When we went to the park we played golf, did batting cages and my brother and I raced go-karts. When we went back, it started to rain so we made bbq chicken fast, ate then went to bed. Our last full day there we went to the diner and ate again, then after had no idea what to do. I thought of the times when my grandpa would take our family up a mountain in Old Forge to a venerable fire tower. Then I told the other 2 of the idea of hiking the mountain so, we went to the tall, steep, rocky mountain and climbed the trail to the tower where you can see all the beautiful view of the trees, woods and the lakes in the distance then went back down. The day began to clear up and we just went back, fished a little then cooked dinner and had a fire. The last morning there we got up, packed the truck and off we went but, of course, we stopped and ate at the small diner before leaving the town. Over the days that we were there, we never caught very many fish, despite that, we all had a lot of fun there. This is one memory that I will always want to remember. This memory especially stands out because soon my brother will be gone for about 4 years and this trip was one of the best and most exciting thing that I have ever done with him. I'm glad that I was able to spend this time that I did with my brother and while he's gone I can think back to him and remember the fun I had with him.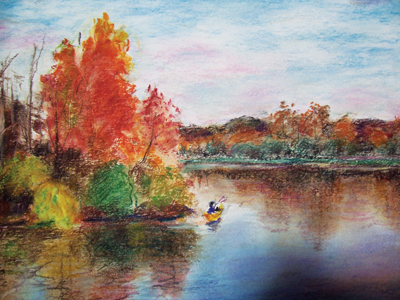 © Xiao H., Naperville, IL