Louder Than a Bomb
November 15, 2017
My freshman year of high school was rough. There was more work and it got harder and harder. Luckily, I found a club that I ended up loving: Louder Than a Bomb (LTaB), which was my school's slam poetry team. I've always loved writing poetry but it never really seemed that anyone else in my grade shared this passion. I had no one to bounce ideas off of or to edit my poems, so they would just sit in a notebook untouched for months. When I first got to LTaB I saw the people who were existing members from the previous year(s) and I was amazed at their talent and skills.
Our team ended up being only six students, which was okay because we were closely knit and worked very well together. Ishyah and Cheyanne were our team captains, as they were both seniors who had such dedication. There was another senior, Dezzarae; and then there was a junior, Rachel. Finally there was the two freshman, me and Cynthia. Our coach's name was Nick and we had a mentor named Clair who had just graduated the year before.

We had about ¾'s of the school year to prepare for slams. There are five rounds to slams; there are four individualists (indys) and then a group poem consisting of four members. Our indys were: Ishyah, Cheyanne, Rachel, and Cynthia. However, we found out that Cynthia was in the hospital, forty-five minutes before the bout started. We had to have four different people doing indys or we'd get docked points, I was the only person who could replace her, but I didn't have a poem as I'd been struggling with writer's block for a while.

After a good ten minutes of us freaking out. We realized that we had to get to work on getting me a poem to perform. We couldn't use another member's poem and pass it off as mine, so I had to write one on the spot. I distinctly remember sitting in the very corner, trying to write a poem, basically underneath a piano, because there weren't any practice rooms open. When our coach arrived, he ushered us into a room so we could all talk and bounce ideas off each other. This room happened to be a large supply closet filled with stacks of chairs.

We sat on the floor, writing my poem up until the bout began and I was so nervous as I'd only performed by myself once before, but we had did it. We had written a whole two minute poem in the thirty minutes leading up to a slam. It wasn't the best poem, it wasn't very polished or refined at all, but my team was so proud of me. My coach said that that was one of the most miraculous experiences he'd had in all his years of coaching LTaB. And even though I got the worst indy score of my group, I was proud of myself, because I'd worked hard and I didn't let my team down.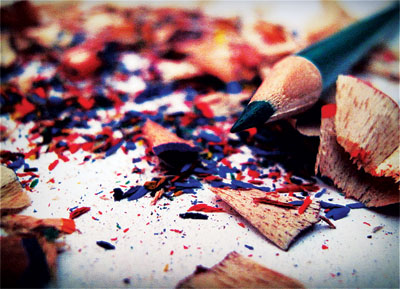 © Rosalee M., Lowell, MA