No Matter If It's Failure or Success, It's My Identity
November 13, 2017
Identity, to me, is the building blocks to my actions, body and mind. I have many pieces of me that make me unique, including running, backpacking, music, irish step dance, nature, tiny houses, personality, etc.
One thing that keeps me motivated is track. My events are high jump and hurdles. Because I'm so small for my age, kids I'm competing against don't think I'm very good. I was the only high jumper for my old school, and I was one of the youngest members. When I start jumping, though, especially in high jump, they realize I'm not as bad as they thought. My best meet was against Shrewsbury.

I jogged down the dirty steps of the yellow school bus that acted as our transportation to the meet. As I walked onto the track, I felt a jump in my stomach. The hurdles, already set up, were very low. But, the Shrewsbury team was struggling to get over them and landing quickly. I warmed up by doing my stretching routine and running around the track a couple of times. My first event is hurdles. While I crouched down on the starting blocks, I got that horrible feeling of failing. But, I pushed it aside and focused on the starting gun. The bang of the starting gun let a shock through me, and I leaped off the starting blocks. I sprinted to the first hurdle, reaching for my lead foot with my opposite hand, like I've drilled endlessly. As soon as my lead foot cleared the hurdle, I pushed my leg into the ground and sprinted forward. I swept my heat by more than a second. After catching my breath and stretching again, I went over to the high-jump pit. The kids all looked humongous, even for 8th graders. I stretched again, and we start jumping. In the beginning, I take it easy, to reserve my strength. That puts me ranking in the top five. When they start working harder to beat me, I work harder too, until `I get to a height that the other people miss three times in a row. The coach recording the heights was very surprised.
"The winner," he says, "Is Melican Middle School number 14!" I WON!!!! There was not a face nearby that didn't look crestfallen or surprised. Because I was the only contestant for my school, I didn't have any supporters. The coach offered to let me keep jumping for my personal best, I was very happy, especially because of the looks on the older kid's faces.

My best jump is 3' 11". I beat my own record a lot, and broke the record for my school, Melican Middle School. I broke the 8th grade record in 6th grade. When I did my best jump, I was only 4'11" tall. Even though I helped our school win the meet, nobody cared. There is no announcement in school on the winners, so nobody knew. Also, I didn't have any friends to talk to about it.

I was always different than all of the girls in my school. I never wore dresses or makeup, and I didn't have any friends in school. I always thought people were crazy, going through so much work to look "good."

In January, I crushed my finger, so I got a cast on my hand, so I couldn't move my finger. At recess, I got the best quality basketball, but it was hard to shoot because of my hand. A group of boys tried to steal it, but I dodged them all. Finally, we had a shootout. Whoever won got the ball. Even with my cast, I won. I was never bothered by that group again. But of course, they acted like it never happened and nobody really saw. The only way I could tell they remembered the incident is how they left me alone at recess.

At my current school, I'm finding how important it is to work hard and how fun it can be, too. People see me for my strengths, not my differences. The teachers are extremely accepting and helpful. I feel like I can be my true name.

My first name, Sofia, or Sofía is Norwegian for wisdom and power. I've always loved those words. My mom's great grandmother lived in Norway, and was born and raised by Norwegian parents.

My middle name, Howland, is also the last name of John Howland. He is a well-known passenger on the Mayflower. In a terrible storm, John fell off the deck of the Mayflower and into the stormy seas. Luckily, another sailor spotted him, and they rescued him. He was barely alive. If he hadn't survived, me and my family wouldn't be alive.

My last name is shared by my grandfather on my dad's side. He was known as one of the best pilots in the town of Marshfield, where he lived. He was an engineer and a pilot. He would practice takeoffs and landings in storms, when other pilots wouldn't even get into their planes. Takeoffs and landings were hard enough, but in a storm, they could easily be deadly. His dedication earned him the title of the best pilot and the name of the airfield in Marshfield. He is my favorite grandparent, and even though he died when I was 6, I still have many memories of him. He taught me resilience and gave me character. He raised my dad and his many siblings in a loving house, and all of them became successful. My grandpa was an inspiration to many young pilots and engineers.

Overall, my identity is completely my own. It keeps me strong, caring and kind. My family is supportive. My grandfather gives me ties to courage, practice and persistence. Running gives me the freedom and happiness to be me. I compete for me, not for my school or popularity. My grandfather was flying for himself, practicing what was hard.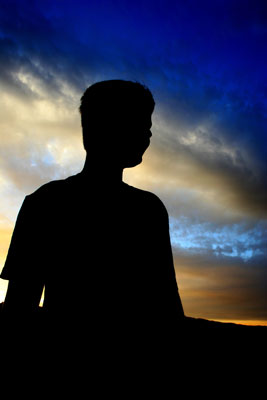 © Monica L., St. George, UT