It's Pronounced Ja-lay-knee
November 7, 2017
It's pronounced Ja-lay-knee.

My name, there's a lot of meaning behind it. That's something I failed to realize until recently. It was never something I thought about as a little girl. When I started going to school, that's when things changed. I attended an elementary school in Henderson; surrounded by blue-eyed, blonde haired Jennifers, Natalies, and Hannahs.
With my last name starting with an A, it was usually always the first name listed on the roster. Teachers would mispronounce it. My fellow peers would also mispronounce it. And laugh at it. I never really saw the humor in it but I guess the other students in my class did. Juh-law-knee. As I grew older, my biggest dream was to have a legal change of name. I begged and begged my mom but she would just laugh and ignore me. I so badly wanted to be named Ashley. I thought it was such a beautiful name. I swore up and down I was going to change my name when I grew to be a little bit older. Ashley. I would've fit in perfectly with all the other girls. Who wanted to be named Jalanie? Now that i'm older, I'm so grateful to have been named Jalanie. I no longer wish to change my name. I mean people still mispronounce it now and then but I've been through it a hundred times. It's no biggie.
I think the story behind my name makes me love it even more. My parents both decided on it together on one of their dates back in high school. They say they were together one night at a bowling alley. They said there was a young lady a couple rows down from them who had scored a strike. After she scored the strike her name popped up on the score monitors: "Jalanie". My mom and dad said they both instantly fell in love with the name but were unsure of how to pronounce it. My dad, being the friendly and brave person he is, went to go ask the young lady how to pronounce her name. She replied, "It's pronounced Ja-lay-knee". That night, at the age of 16, my parents made a promise to each other. They made a promise to name their first daughter Jalanie. 4 years later, there I was. Jalanie. I've learned to love my name. I like the fact that it doesn't have a certain race/ethnicity tied to it. I like that because I don't have a certain race/ethnicity tied to me either. My mom is Mexican and Ecuadorian. My dad is Mexican and Salvadoran. I have a little bit of each culture mixed into the person I am today. I was born here in Las Vegas but I lived in Mexico until I was old enough to start going to school. I've been to Ecuador quite a few times. Throughout those vacations, I grew to learn a lot about the Ecuadorian culture. I have yet to visit El Salvador, but spending the weekends at grandma's and eating all her Salvadoran cooked meals also taught me a lot about their culture. While growing up around all these different cultures, I was blessed with being taught how to respect other cultures as well. We all can't be named Ashley. I believe that just because someone's name sounds a little different than yours or has a different skin color doesn't make you superior. I have people who have known me for years still mispronouncing my name. But that's ok. I'm glad to be a Jalanie in a world full of Ashleys.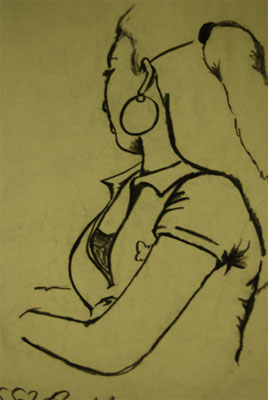 © Janessa B., Kannapolis, NC