A National Park Realization
November 6, 2017
I reluctantly climb each step up onto the RV. With each footfall, comes a backbreaking groan. A vacation was supposed to be relaxing, how could a trip to national parks be one? "We're here!" my dad shouted over the wind that buffeted the RV. Great, I thought, so much fun this will be.

I sit up from my huddled corner, nauseated from the forever-long ride, and looked out the window. According to the Yellowstone Support website, "When the first visitors to Yellowstone tried to report what they saw, news magazines responded, 'Thank you, but we do not print fiction.'" Yellowstone appeared to be a fantasy in my eyes as I looked out the window in awe. An entire pack of bison was grazing in an immense field with grass that went up to their bellies. Mountains that touched the clouds were blanketed with snow, rising side-by-side as if in an enticing conversation I could not hear. The RV strained the mountainside where spring flowers, as bright and beautiful as sunshine, danced in the light. I shook my head and tried to leave this new whimsical world I was in. My stubbornness led me back to thinking Yellowstone would still be a bust but I soon regained the wonder as I was drawn to this new land outside the RV. I took out my colored pencils and watercolor notebook and breathed in the beauty. My fingers hesitated and, finally, I hit the book with color. I drew the mountains stained with sunlight and the field of flowers and bison. I tried to catch every detail with my shivering hands and finished with a page of the book plastered with a scene I may never forget. I tucked away the book in my backpack and drifted into sleep. The next morning my mom shook me awake.

"Look!" she whispered, pointing out the window to my brother's tents.

I groggily looked out the window and found two elk sniffing the tents! I laughed until I heard that we would be hiking Bunsen's peak a towering landform in this famous park that day. Based on "Yellowstone Park", by the Yellowstone committee, millions of years ago, a hotspot (source of tremendous heat) formed and later pushed a large plume of magma toward the Earth's surface. This caused the crust to jut upward, making a rough and rocky area, known as Yellowstone today. During the hike, I whined the whole way up. As I passed enchanted violet flowers and mossy trees, I was still complaining. I trudged each step of volcanic rock, the color of autumn leaves, still whining. Finally, we reached the top and I plopped down on a log, ignoring my surroundings while breathing a sigh of relief.

"Molly," my dad said, "Stand up so I can take of picture!"

As I reluctantly stood up, I caught a glimpse of the view and found myself totally speechless, taken aback by the unforgettable sight. The trees I had recently passed were now the size of twigs, greeting my happily as they swayed. The snow that acted as a sheet for the mountains, blended in with the light, fluffy clouds, that chased after the sun which blinded me. I grew numb and did not feel my shaking from the bitter cold anymore. I felt, for the first time, what I truly believe "good" is.

The next day, it snowed a great deal. The world appeared before me as a powdered sugar doughnut. My mom decided to see Old Faithful, which was the only thing I had truly looked forward to. I wrinkled my nose at the horrid stench of sulfur as I waited by Old Faithful for 45 minutes. Old faithful is the biggest regular geyser in Yellowstone, hence its name. "However how loyal Old Faithful can be, it is slowing down," said a Yellowstone employee. To my disappointment, Old Faithful lasted a grand total of 47 seconds and I expected more out of the RV faucet. We continued on to the Castle Geyser that erupted every 12-24 hours. I waited very little time and watched the water surge out, always seeming to die away yet it would explode over and over again.

Finally, the Yellowstone portion of the trip ended and my family and I journeyed to the Grand Teton. According to the NPS (National Park Service) website, "The Grand Tetons did not have permanent settlers until the 1880s. Their town still stands in Jackson Hole."

To get to the Lupine Trail to hike the Grand Teton, we went through Jackson Hole, full of tourists and so little actual citizens. Those that did live there were as pale as pale gets. Everything was either new and polished clean or old as dirt. My dad laughed as we passed a Phillips 66 and a Hot Shops. We stopped at a giftshop but only my mom and I went in to explore. After buying gifts for our friends, I caught sight of something familiar, dairy fresh ice cream. I pointed it out to my mom, knowing her weakness, we shoppers ordered heaping bowls of ice cream while we generously brought back prepackaged fake ice cream cones to the brothers waiting in the car. My brother, Michael, strutted up to us once he saw what we were eating and compared it to his puny cone. It seemed to never melt and tasted just as bad as the wrapping.

"Are you kidding?" he yelled. Just how angry he was over ice cream made me laugh so hard, I could barely stand. "You get some real ice cream and you reward me with this."
"Guess, you should've come in with us, right?" my mom laughed.

When we found Lupine Trail, I made a goal to not complain but it was already broken when I started on the switchbacks. We hiked as far as we could before encountering a foot of snow in our path. I looked down and found what used to be a vast lake now seemingly a puddle. As we were walking down, my dad suddenly pulled out his bear mace. My eyes scanned the mountain side until they got a glimpse of a black bear cub. We tip-toed past the bear and leaped over small streams, gathering the rocks they carried along the way.

Moving on, we flew to Bryce Canyon (my personal least favorite) where the scorching heat was everlasting. My aversion for hiking increased as I stepped foot on the canyon's rocks, the color of fire. From the Bryce Canyon website, hoodoos (rock formations in Bryce Canyon) are formed through two weathering processes working at the same time. To my surprise, it could snow in Bryce Canyon and the temperature could drop to 20 degrees.

On the last few days of the vacation, we hiked at Zion National Park. The NPS website shows, The Narrows (where we hiked) is a section in the Virgin River. The temperature was 110 degrees but I was soothed by the 40 degree water in the hike. I got soaked to the skin and later, before I knew it, I was on a 7-foot rock above the water. I leaped off in delight. The surface of the water reached my toes then engulfed my torso and consumed my head. I opened my eyes and saw tadpoles zooming around my head. I felt pebbles and sand at the floor. As I went up to breathe, I noticed a large hole in the wall. I looked up and saw the walls cave in overhead. I grabbed a pebble and shot it up to the hole. It hit so hard, it flew right out. My family joined me in shooting for the hole. I was able to succeed five times. Then, I painted my hand with mud and smacked it onto the wall. My hand print remained for about a millisecond until my brother scrubbed it right off. After the hike, we packed our bags and headed to the Salt Lake City Airport.

When I was waiting for our flight home, I came to a realization: I had been a real brat. What I thought would be the worst trip of my life actually had me begging for more as I got on the plane. There are better ways to have a vacation or know what "good" feels like than just relaxing. It's okay to have a little adventure because that's the thing that makes a person want to write or draw something down so they'll never forget it. When the plane rumbled off the ground, I crossed my fingers that I would never forget any detail of the vacation. I don't think I ever will.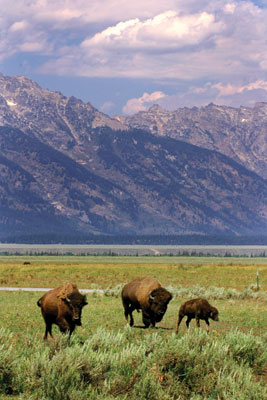 © Matt S., Glastonbury, CT