Scared or Excited
November 5, 2017
First, I woke in my cabin in Altai because it was a school trip. Thinking that today would be a super relaxing day until it was announced that we are going rafting today. They told us to pack your swimsuit, woolen socks and also your water shoes. I knew that I was going to do something wrong or mess something up. Which I was super scared about. We were on the bus talking how bad rafting will be, everybody was scared. We got off the bus and a breeze of cold wind hit me, giving me goosebumps. Taking off my clothes I was thinking about all the things that I can mess up. The next thing I realize is that I was on a raft, sailing on freezing unsolid ground-, it just felt like I was swimming in a pool covered in snow. I thought that Wednesday was a hiking or a scavenger hunt day- but it turns out it was neither of those -- it was rafting. I was so scared, I had never done rafting and I thought it would be horrible, on top of that the weather was horrible, usually, when I do or try new things, I thought my stomach would burst out because I had such a bad stomach ache. We started the rafting session after the bus ride, we all got wetsuits and helmets we got on the rafts. With our advisors, the first part I thought was not as fun as the second part because we did not get to jump in the water or push people off which the teachers gave a good reason for that because we had to stop at camp A to eat lunch. There we were in camp A, as the ramen was there everybody was thundering and trying to get the ramen, it was so satisfying eating those because that felt just like a warm air entering my body and warming it up. Also, there was the flavor of chips I never tasted which was bacon- personally I love bacon and trying the chips of bacon kind of felt weird but there were only two flavors Cheese and bacon I thought of trying something new which was the best thought I had in awhile, it tasted astonishing.

After lunch the real fun began, we did a bit of rafting and then we saw other boats fighting so we thought, why not jump and swim to the other boats these were ideas by people on my boat, which at first, I thought was the best idea. But after we jumped I couldn't feel any of my body parts because the water was FREEZING and then some of my friends took me on their boats which I really thank them for doing that. The lesson I learned was that never listen to the ideas of your friends on a raft. As first, I thought it would be horrible, however, after some time, I thought I could get through this. Then the only thing I could feel was me slowly becoming an ice cube and freezing to death but Mr.Treinen(one of our humanities teacher) told us to paddle and we will feel warmer which worked. We had people on the boat jumping on other boats and pushing people off, however, we tried attacking many boats but they had people who didn't want to get pushed off, so we let them live. But after that nobody wanted to fight and everybody started paddling and kept going ahead of us. But we were just trying to catch up and fight but nobody wanted that, so people just started pushing off people on our own boats at the end when everybody finished we were still in our raft and decided to jump off. Some people didn't jump off, people like me. I didn't want to get cold when I jumped in the water, I felt my soul leaving my body. I did not want to do that again, I felt my soul fading away. But it was a lifetime experience. Now I think back to me being scared, and say to myself "why was I ever scared, why did I think of not going on the raft?".

The teachers had an idea, they made a rule that everybody had to get wet. While there was one boat that had some people who were dry. They were up front because they kept paddling and didn't stop to fight. We thought of catching up and pushing people off the boat, we did catch up. But unfortunately, we could not attack because they were one of the weakling boats. They obviously finished first because they didn't fight. We were the boat which wanted the boat to boat combat, which means we would be the ones to finish last because at the end most of the people on my boat jumped. Which in my mind is an incredible thing because you never know, you might never go rafting again. At first, there was a feeling of excitement in the frosty like air blowing which didn't feel good in swim trunks we took our really wet wetsuits off and then the rain jacket they gave us which in my thought was unnecessary because anything inside the rain jacket was wet. The best part is that I wore my class five t-shirt(the camp t-shirt we got), for some reason, I thought it would be a good idea to wear the class five t-shirt. Which obviously got wet and my t-shirt didn't dry for weeks. The satisfaction I got after we took off all the wetsuits and the equipment we had on. We went to change on the bus because we left our clothes on the bus. However, the girls got to change first which resulted in them taking too much time. Which also resulted in the boys who came a bit later waiting half naked for their turn to change clothes. But after all of it was an experience of a lifetime. But the lesson I learned was that if we don't try new things in life we will never expand our dictionary.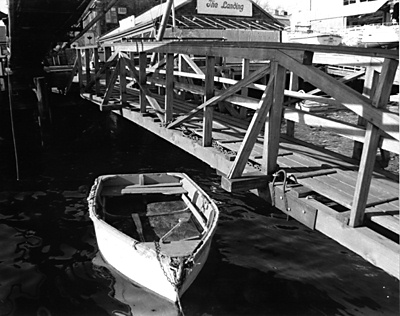 © Megan S., Marblehead, MA