The Metamorphosis of Time
November 5, 2017
It was summer of my grade 10 school year, and I was heading to India on my flight to Mumbai. I don't like airports, during the summer. It's always crowded and people act like robots as they walk past each other with their suitcases. Everyone occupied in their own life. People hardly take time to spend time with their family. But that day, I saw a little kid holding his grandma's hand. They stood out among other people at the airport. I was shocked how the little traveler was acting like a man and taking complete care of his grandma. He was taking her through security and baggage without taking any help from her. The boy made sure that his grandma never gets tired, so whenever possible, he made sure she was seated. This took me back to when I first traveled alone with my grandmother on a train back when I was 12.
My grandmother always used to remind me of the time so that we would never miss the train. As we got to the train station, I asked her, "Grandma! We are at the station 1 hour early. What are we gonna do for 1 hour?"- She replied, "Suyash, do you know how important time is? Being early is better than being late." My grandma always emphasized the importance of time.
But time never stays the same. It changes every year. Every day. Every hour. Every Second. Time changed for my grandma too. She aged more over the course of 4 years. She became weaker and more religious than ever!
I asked her that summer, "grandma, would you like to go to the temple in Jammu this month?"
She replied, "Do you think I have the energy to go to a temple which is on top of a mountain?"
"You don't have to walk all the way to top, you can take the electric car or ride a horse"
"A horse ride! Are you kidding me? Horses can jump off the cliff of the mountain if they ever feel like doing so. I will die!"
"Ok, why would a trained horse jump off the cliff? They are "trained" for a reason. You can take the electric cars if you want. Cars can't jump off the cliff!"
My grandma has always been scared of horses. This one time she went to another temple on a mountain and she saw a man riding a horse to get to the temple which was on top of the mountain. The horse made a violent sound and jumped into a valley. Both the horse and the man riding it fell in the valley. Everyone froze for a second and started chanting prayers to god. The mountain was filled with pilgrims from all over the places and had never experienced this in real life. Few pilgrims investigated the reason behind this event. Some said it was because God was angry and we should pray more often. While others said that it was because of the Karma. For my grandmother, it didn't matter why he fell into the valley. She made a decision that day: I will never ride a horse again in my life. All of this happened in front of my grandma. Since then, she is scared to ride horses. She thinks that all of the horses are unpredictable and can become angry at their masters quickly, which can result in anything including jumping off the cliff. Not all horses are that way, but no one can explain this to my grandma.Even after my grandma's negotiations to not go to the temple in Jammu, I forced her to go. I booked the train tickets. She started packing two weeks before and told me to do the same. I said, "We still have two weeks. Why are you always in such a hurry?". She replied back using only two words, "Time flies".
It indeed does. Only yesterday My grandma took me for a walk in the garden by holding my hand, and today I am gonna hold her hand and take her to this temple.

Two weeks passed really quickly. We had to go to the train station that day to catch our train, and I was still packing. My grandma was constantly walking in the house that day. She said that she has a lot of work to do. Our train was at 3 pm. I asked my grandma to be ready to go by 2 pm.
"You shouldn't walk that much grandma. You walk more than me every day. I will help you if you need something," I told her politely.
"I am just preparing for our trip. I will tell you if I need something" She replied in a not so nice tone.
The love in her eyes for me can be seen at all times, even though she never seemed to talk nicely to me. She argues with me about many things like how I never was on time or how I was lazy in completing my daily chores and homework. Her care cannot be ignored. It shined from her voice when she talked to me or argued with me. Her love for me tied my brain into her house all summer.
We went on the trip to the temple successfully and my grandma liked it. At first, she got scared when she heard that the climbing trek was 14 km long, but then I arranged an electric car for her and then she became somewhat happy. I walked all the 14 km because it's always good to walk for me. Time was everything for my grandma. On the trip, she already calculated the time it will take to go to the temple and how long it will take for us to pray and come back down. She even calculated the time it will take for us to eat our lunch! She continued to get earlier than time for all events. This time I didn't complain because I knew what her response might have been.
The little kid at the airport sat next to his grandma as they waited for boarding the aircraft. I never thought that a little kid can take me back to my memories. I wanted to follow every step of where that kid was taking his grandmother to, and see how he was taking care of her grandma at every step. I wanted to see if his behavior changed as he grew up and how his feelings for his grandma changed or stayed the same through time.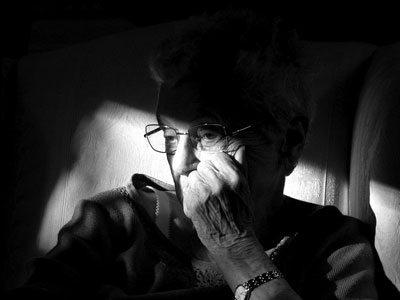 © Kate S., Hopkinton, MA