The Fire
November 2, 2017
January. Cold white, snowy. My dad fills the wood stove to heat the house; my mom shivers and takes us to basketball practices.

We all have a way of heating our houses. For most people they use propane, but our family uses a wood stove. Wood stoves require a lot of work. They need wood split to burn, water in the tank, and someone to keep the fire going. Everyday in winter my dad fills up the woodstove before bed and it lasts all day long keeping our house warm. My dad is a necessity to heating the house. Every now and then I would go out with him and help fill the wood stove with wood just to get the hang of it. I knew that one day I would need to learn how to operate the wood stove.

It was early in January, still snowing with cold Michigan temperatures. My brother was graduating from boot camp in California soon and my parents were going to leave to see him. I knew I would have to do the woodstove when my parents were gone so I practiced with my dad more. I started getting the hang of just throwing wood in the stove. My parents leave tomorrow and then I'm all on my own.

On January 10th, 2015 I came home late from my grandparents and rushed out to the woodstove to fill it up. Since I got there so late the fire was out so I had to start it up again and hope the flame would take off so I could have a warm house. I put a couple pieces of wood in with a bunch of paper and lit one of the papers. The flame wasn't staying lit like I wanted it to so me and my cousin were thinking of ways to get the flame going. We both looked at the gas can next to the table in the shed. I grabbed the gas can and poured a little gas on the papers and the flame ignited. It kinda scared me, but it worked. I started throwing my wood into the stove but the flame went back down. I grabbed the can again and poured a little more on, but this time the flames weren't so forgiving.

The next thing I knew I was rolling on the ground and all I could see was orange and red colors. I stood up and walked a few steps and I felt someone push me. I fell into a 2 foot ditch on the snow putting the flames out. I laid face down in the snow not knowing what really happened. I finally sat myself up and I see my cousin standing in front of me freaking out. At that point I realized that the orange and red colors was me being on fire and that little push I felt was my cousin pushing me into the ditch so the snow would put the flames out. I ran inside yelling "I got burnt, I got burnt!" to my grandma that was making me dinner. She immediately called my dad not knowing what to do. I didn't really hear what happened after that because I was in so much pain I was screaming and pounding the walls waiting for a solution. It was taking too long for my grandma to talk so I ran outside and just laid my face in the snow to take the pain away. A few minutes later my grandma and cousin came out and said to get into the car we are going to the hospital. I then used my sweatshirt as a bag and held snow to my face in the car all the way to the hospital.

Arriving at the hospital everyone looked at me like I was crazy with a sweatshirt filled with snow. I found a nurse who understood what happened so she gave me a bed to lay on in a room. She left for a minute and came back with 3 other nurses. 1 nurse started giving me an IV and the other 2 nurses paid attention to my face and put some solution on gauze pads and placed them all over my face. The feeling of the wet Gauze was so soothing, it felt like jumping into a pool the first time on a hot sunny day. . As they finished up covering my face they told me to relax as they go get some doctors. 5 or so minutes later one of my mom's close friends in nursing school(Robin) came to my room to see what was going on. She told me my mom is freaking out and that she was here to take care of me until my parents could come back home. A couple minutes after Robin came, a doctor and another nurse came in. The nurse started putting a clear cream called bacitracin on my face as the doctor asked me what happened and told me how bad it was. I had mostly 3rd degree burns and some 2nd degree burns. He explained that I had to go to a special burn clinic for further care.

I was concerned but still in shock so Robin and my uncle took in what the doctor had to say as I was texting my best friend. I sent her a picture of me with my face and chest beating red. It felt like forever waiting for me to be able to leave but during that time my best friend posted that picture of me that I sent her with a long paragraph. As I read it my eyes started filling with tears and she said "You're strong, army strong. I know you can get through this." At that moment I had realized the big lesson I learned. Gas mixed with fire is like a tornado touching buildings, when one touches the other everything goes downhill.

Monday morning I went to the burn clinic in kalamazoo to get my face healed as quickly as possible. I was kinda nervous on what they had in store for me to do because my face was so tender. As I got into my room the nurse started getting washcloths and tweezers and I was very confused on why she needed those supplies to help with my face. The doctor explained that the tweezers and wash cloth were to get the dead skin away from the area so new skin can grow. At first she was so gentle and used the tweezers and then it turned into her rubbing a drow washcloth on my bare skin, it was so painful.

3-4 weeks later, I was almost completely healed. I had to take extra steps in order for the healing process to go right but I did it. Everyday I have to put sunblock on my face to protect me from the sunlight because the sun can mess with the pigmentation in my skin. I take many precautions so my skin will be healthy. Everyday people say i'm so lucky, but I don't think is it that way. For me it's more like a punishment but also a reward because at that time it showed me who my real friends are. Today I am scar free and healthy as can be.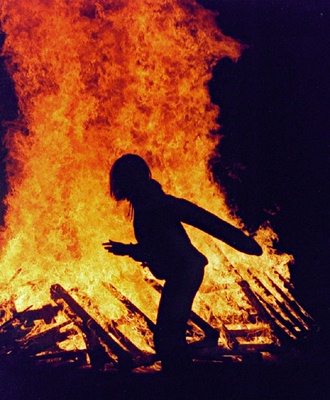 © Hali S., Robinson, IL