Dropping the Mic
November 2, 2017
It was dark, the figures in the room in front of me, merely outlines. At the same time, it was also bright, the light stabbing my eyes. That was within two milliseconds of me standing up. Four younger kids sat in front of me, they stared. Their eyes outlined in dark eyeliner, cheeks, bright red with blush. I grinned, and raised my gloved hand as I opened my mouth to sing, "I've got no strings…" I began, moving along with the choreography, listening to the slight footsteps from each time we put our foot down on the maple colored stage.

"Hi-ho the merry-o, he's as happy as can be." We sang, the five of us, jumping off of one leg while we raised the other into the air. I felt it before I heard it: the black, plastic box unclipping itself from my shorts, pulling on the chord from the microphone as it raced towards the ground. Slam. The noise, like thunder rang about the room. Just like that, opening night already had a major problem.

"I want the world to know: Nothing ever worries me," I sang. In regards to theatre, it was even partly true: I wasn't worried. While I sang, I projected my voice so the audience could hear. This was a commonly practiced theatre skill for whenever something like this happened or when you simply didn't have a microphone.
"I've got no strings," I sang.
"He's got no strings," The rest of the cast added.
"There are no strings on me," I threw my arms up at the button at the end of the song shaping a 'V' with my arms, just as it had been choreographed. Just as it had been practiced. Just as I would have done if the performance had been perfect.

The rest of the scene played out and soon, I was able to scamper offstage and down to the green room. I smiled. It wasn't the worst mistake that had happened so far- Well, it was for the show- but that was tiny compared to the mistakes made in the rehearsal process.

"Pinocchio!" Sam, playing Geppetto called out, sitting behind a giant Styrofoam cutout of a whale's mouth.
"Huh?" I said, sitting up so the audience could see me.
"Pinocchio, you're alright!" Sam shouted. "Wait… You're made of wood again," I nodded.
"When I jumped into the water, the donkey parts just melted away," My character explained.
"Pinocchio, I'm sorry,"
"What do you mean?"
"I'm the reason you left and got into this mess in the first place, so when we get out of here-"
"How will we get out of here?" I asked.
"I don't know," Jack commented, he slouched.
"Well don't give up," My character insisted.
"Why not? There's no way we could get out of here," Geppetto commented. I sighed.
"Who's best, you ask, the world's greatest team, who?" I sang. "Geppetto, and son! Come on dad, No test, no task, to tough or extreme, for?"
"Geppetto?" Sam joined in
"And son!" We continued the song, mimicking the choreography from the original version of it, but in a way so it would fit inside the whale's mouth. "Wait I've got it!" my character shouted.
"What?" Geppetto asked.
"Ask me a question, anything!"
"How many toes do you have?"
"Two hundred!" I answered. I waited for the sound effect signaling the growth of my nose, but it didn't come.
Instead, half of the whale's mouth fell over onto the stage, prompting the rest of the cast to burst into laughter.
I shook my head and continued pacing around the green room. A few minutes later, I glanced up as the green room's doors burst open. Emma ran over to me. "I grabbed your mic," she prompted, holding it out in front of her.

"Thank you!" I replied. "Thank you," I whispered. We weren't supposed to talk. I paused, "How'd you get it?" I asked as I took it from her and clipped it back onto my costume. There weren't any blackouts after that song, nor did the curtain close, so anything she did would have been viewed by the audience.

"I adjusted my collapse so that I could grab it," Emma said simply. I nodded, threading the microphone wires through my jacket. The show continued.

Two days later, I found myself onstage again. Hunched over like a limp puppet. I could feel the plastic hair from the wig falling into my face again. I felt the pull of the red duct tape we decided to use instead of the red paper circles, as they stuck to my cheeks, more successfully than their predecessor. The lights were still down.

It was the third and final performance. We had taped my microphone box to my costume before the performance that night. This time, like the night before there was no way it could fall.

I allowed myself a grin, and waited for my cue to stand up straight and sing. Behind me, the other puppets had started their dance. At the fifth repeat of the tune, I stood up and sang my solo. We continued the song and dance, in perfect synchronization. "Hi-ho the merry-o he's as happy as can be,"
"I want the world to know," I sang. Slam. Thunder rang through the theatre again.

Apparently, duct tape couldn't make sure my mic box didn't fall again.

"Nothing ever worries me," I continued, grinning. At least, no theatre mistakes did, why should they? They always happened. This experience further proved this to me and allows me to enjoy theatre even more.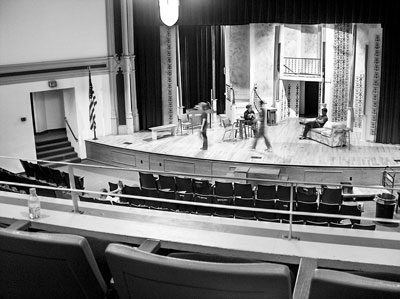 © Sean C., Princeton, IL