The Obstacles We Faced as a Family: Family Bonding
October 30, 2017
Every family faces an obstacle that they run into. We're all just trying to do our best and race to the finish line with triumph. Five years ago my family faced one of the biggest obstacles we would have to endure and it would last the next couple of years. Sometimes you don't realize how well your life is until something happens and it changes things forever. Whether, that change is good or bad it's going to affect your life someway.

On August 18th, 2012 after a series of MRI's, bloodwork, eye exams and a CT scan my mom was diagnosed with Multiple Sclerosis or MS. Multiple Sclerosis is a disease in which the immune system eats away at the protective covering of nerves. When I first found out I was shocked and I also had a lot of questions. What is this disease? Can it be treated? Is there a medicine? If she takes this medicine will she be able to be the way she was before this? Healthy and happy. Why did this happen to my mom? I had never thought I would have these questions at the age of 10 years old. I never thought I would see my mom so sick where she couldn't even get out of bed. But I did. The first couple of months my mom was in and out of the doctors' offices and hospitals. It was mostly white walls and hallways and different faces of doctors that I can't remember the names of. I always despised the smell and the feeling of the hospital; sanitizer and sadness. It would remind me of why I was here and how bad my mom felt.

We didn't get to do the usual fun things as a family like we used to do. We stopped going to family outings. We also didn't see family as much as we wanted to. The first two years were hard for my mom and difficult for my family. We had to try and figure out a way we could spend time as a family without making my mom's MS act up. It was quite easy actually. Ever since I was a little kid my family would go for a nice car ride over the weekend. It was one of the ways our family bonded. You might say, "How is that family bonding?" During these rides we would listen to music on the radio and have singing competitions in the car. We would stop at a Dunkin' Donuts and my dad would buy us all a donut. And other times the car was just silent and we would appreciate nature outside our window while we take a relaxing ride through the country. I've noticed that during these car rides we would learn so much about each other. There were no phones and no WI-FI. Zero distractions. Just us, our family. We would have these great conversations that made you think and we were all a part of it. With our own opinions.

Another way we bonded was just staying home. We watched movies and our favorite TV shows. Other times we would help my mom, my sisters and I would do chores around the house. We tried to help her anyway we could. Whether it was doing the dishes while listening to our favorite country song on the radio or folding laundry to one of our favorite pop songs. Sometimes if my mom was feeling good we would rearrange bedrooms or move furniture that wasn't extremely heavy. I would make cakes and cookies to cheer her up when she was feeling down. My middle sister would do different hair styles in her hair and massage her head when she got headaches. We spent a lot of time being together and we learned a lot about each other. We grew closer. And since my mom couldn't do a lot, these were great ways to do some family bonding.

To this day, in 2017, my mom is still going through this. MS just doesn't go away, it's always going to affect her in some sort of way. After 5 years of this she's finally going to be on a medicine for Multiple Sclerosis.
Throughout the years I think I learned a couple of valuable lessons. Lesson one: family is the most important thing in life. They will always be there when you need them no matter what you're going through. There always going to need your love and support. Lesson two: don't take things for granted. You have this beautiful life to live so live it to the fullest. The last lesson I think is just a reminder. There are going to be ups and downs throughout life. There will be disappointments and some of them will drag you down but it's up to you to get back up. Take those obstacles and figure out ways to get through them and make them better. It'll be challenging, but you can do it. After all, the finish line will always be there and it's your job to finish it with courage and strength.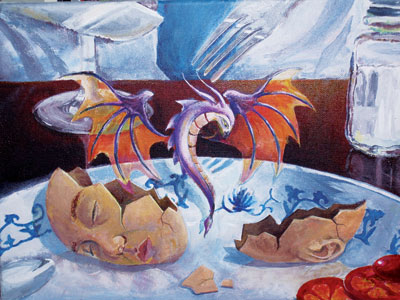 © Yukun Z., Toronto, ON, Canada