Ernest & Me
October 26, 2017
I was a short, underweight girl with gazing brown eyes from a Bostonian suburb. When my head tilted slightly to the left, beams of light slashed through my pupils, flashing with an ache for something new. The inventory of books carried in my adolescent brain began with "Mr. Popper's Penguins" and ended with "The Help". Everything inbetween considered empty literature. I caught my first glimpse of Ernest through my father's gloating, "The man has such a way of speaking to me." As he'd ramble, I sat puzzled yet generally unbothered by whom he was referring to, blind to the dawning of my literary pilgrimage. Ernest, the mysterious conversational figure whom I simply could not grasp, became the culprit to my crime scene of youthful wonder. For months, I writhed in my own private puddle of ponder, trying desperately to decipher the rubix cube of his identity. Yet somehow, without intention, this obscure man had managed to trespass his way through the white picket fence of my nine-year old utopia. The summer I entered fourth grade, I spent weeks worth of hot, sultry days on the French Riviera with my beloved Yaya and Ehben. When I wasn't at the pool, the majority of my time was spent in my grandfather's study: a room paneled in a walnut-stained oak where as a young man, he would write editorials for TIME Magazine. With the soft instrumentals of Stevie Wonder's "My Cherie Amour" dancing around the record player, I scoured his library of journals, first-editions, and expositories in search of something to sink my chicklets in. It was then that I matched not a name to the face, but a name to the beaten, loved, surface of a well-worn book. Perhaps it was the illustration on the front which seized my attention. Embellished with a bull, throbbing in the middle of an arid yellow circle with wrath and asperity, in an elongated, serifed font, it read, "The Sun Also Rises, Ernest Hemingway". Then, it clicked. Curled up in a leather-tufted chair looking out on the Mediterranean, I submerged myself into Hemingway's olympic-sized swimming pool of literature; basking in his simplicity, engaging myself in the concourse of his plotline. I was no longer housed-in by the walls of my grandparent's apartment tucked away in the south of France, for Ernest had a way of speaking to me, teleporting me, just as he had done with my father. His journalistic, unadorned prose allowed me to travel through time, as if I were casually wandering through Paris and Spain with my eldest friends: Jake, Brett, and Robert. It seemed as though my imagination was invited to an entirely new realm, welcoming me with open arms. I ventured from the streets of Paris to bullfighting rings in Spain, following The Rising Sun.

The passion I felt through Hemingway's novel beckons a mere question: why in the world was this fourth-grade girl reading a 1920's novel based on the aimlessness of man from a post-World War I standpoint, the lethality of sex, and bullfighting? This borderline interrogation stays merited as valid, yet left without any logical reasoning nor explanation… even from the young girl herself. But there I was, engulfed in a novel that felt like a shelter- it even carried it's own genuine smell, the same way that every home adopts its custom aroma. As a young girl, my mind was a constant turntable of thoughts, ideas, observations, questions: an abyss of silenced intellectual acuity. The cerebrum of my brain, home to an exhaustingly infinite stream of consciousness, was like the plastic race track guiding a remote-controlled car that never stopped circulating. For some reason, even with a million thoughts sailing through my mind at all times of the day, I could not find the courage within me to simply spit them out.

Oddly enough, Lady Brett Ashley was the character I found myself connected to. She was the women whom I released butterflies of admiration for; my literary muse. With an iron fist of independence, splendor, and strong-will, Hemingway had crafted the character I needed as a young girl. An unwritten role model, Brett became the woman I simulated. My friends took on the roles of Snow White and Cinderella as we played pretend, ecstatic to dress up in tool-flared, polyester gowns. Yet I was the one sneaking up to my mother's jewelry box, stealing her sleeve of pearls to properly fulfill my role as Brett. More than anything, I wanted her confidence, her power of manipulation, and her deft ability to hold people by their puppet strings. In my mind, it wasn't nearly as deceiving as it may sound. I strived to be the "Mia McWethy" twist of Lady Brett Ashley- anything in hopes of building the strength to display what I had to offer. I fooled myself with the illusion that everything I made myself out to be was somehow true in real life. In a sense, it was true- I was the creator of my own destiny. The one obstacle in my way was me. Hemingway extracted the fear out of my courage-deprived mentality. His consistent use of "what-if" scenarios directly translated into those in my own life, daring me to convert my own personal "what-ifs", a question based upon fears, into "why-nots". In a way, I envied Ernest for his resilience: why couldn't I be the one waving the red flag of temptation, provoking life as I knew it? By the time I had finished the book, cover to cover, Hemingway had shown me that I could.

I am my own bullfighter; a conquistador of literature; the force by which the sun does in fact rise.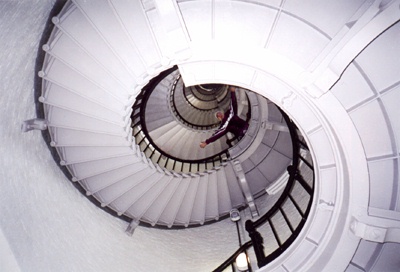 © Andy G., Phoenix, AZ