Loss of Stability
October 22, 2017
What do you do when you first realize that life is not in homeostasis? When you learn the comforts in life do not stay in equilibrium. When you first comprehend that everything and anything you have ever known could be taken away in a minute, a second.
You shut down.
You begin to have five billion thoughts, images, and emotions race, swirl and bounce around in your head. You envision how your life is going to change; how you're going to tell friends and family, and all the things you are going to lose. To accompany the suffocating bombardment of thoughts, the fluttering of butterflies in your stomach makes it feel like your body is going to explode. Change is a six letter word that can bring more fear than a late night horror movie.
This was me sitting at my dinner table around 6:15 one Wednesday night, the faint sound of a stock news report permeated in the air. Pasta stains covered my white t-shirt as tears raced down my face. Nothing could have prepared me for the dinner conversation that I just had when just hours earlier I had envisioned the main topic of discussion to be the latest art project I was working on in class. When in reality, the present conversation consisted of a topic that would seem like a foreign language to any nine-year-old: the Recession. Economic crisis- two words that I did not even know existed, let alone what they meant when they were smushed together or that they would be the reason that my life would change forever.
"Chloe, we have some news for you that we think might be a little difficult to hear but in the end, we think will be positive and exciting" I heard my Mom say from the opposite side of the dinner table just minutes earlier. My heart racing at the mere mention of the phrase. My imagination thinking of every possible scenario that could possibly come out of my Mom's mouth next. The words that came next were completely unexpected.

"Next year you will be going to a new school" she continued.
My once racing heart stopped and I began to shut down. In one second everything shifted.

That night was the start of my many nights without sleep.

I would spend hours in my bed staring at the glowing stars, I previously stuck onto my ceiling, which was blurred by the tears filling up in my eyes. I would imagine how all of my friends would be going to school without me and I would be all alone without the comforts of familiarity. I would picture all my friends doing everything I loved to do and not even caring that I was not there to do it with them. I was in a black hole of blurry glowing stars. I couldn't see the positives and the excitement my Mom so carefully included when she first told me about my move to a new school. All I could envision was my friends going to recess without me and me sitting alone as I watched kids who have been friends forever climb the jungle gym.
I ran the situation over and over again in my head. The idea of a new school and the loss of seeing my friends everyday taunted me and made my stomach hurt. What I did not realize, however, was that I was not the only child affected by the economic crisis that my parents tried so hard to explain to me. Soon enough, classmate after classmate announced their departure from private school. Even one of my closest friends had to leave a
detail that I did not want to admit made me feel less alone.
So what do you do when you accept that life is not in homeostasis?

You cope.

You start to accept your impending fate & find comfort in the fact that maybe you're not all alone. You think about all the other kids just like you that will sit in the rusted chairs of a new classroom surrounded by strangers, you imagine the days when you will see your old friends & the days when you will get to see your new ones. My black hole of glowing stars was light once again.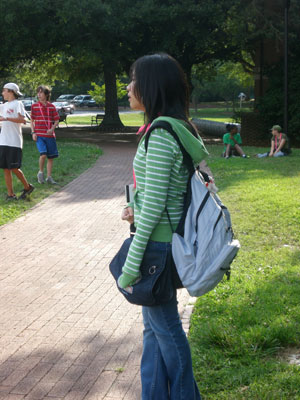 © Lucienne B., Parkland, FL