The Day I Did Not Know
October 12, 2017
I Knew that motorcross was dangerous but i did not know I would have to go to the hospital and get a cast. I woke up and was having a good day so I asked my stepdad if we could go riding and he said "yes". I loaded the bikes up then got all my gear and put it into his truck like I always do. The track is about 30 min away from our house. We got there and it is really nice out and the track looked really good. So I started my bike up and let it warm up to take a few practice laps.

Then i started to go fast i went over a jump and hit the tree branch. I let go of my bike and hit the ground with my right hand down. All I could think was did I break my hand then my step dad ran over to me. He got me up and walked me to the truck and my hand hurt so bad. We went home and I got a shower then we were on the way to the hospital.

We got to the hospital and we had to sit in the waiting room for about 20 min. It smelled like the doctor; which I hate that smell of plastic gloves and hand sanitizer. They called us back to the room and we had to get X-rays and then you just wait; it might be 5 min or 30. So they finally came back and told us it was not broken but the muscles were torn so I had to wear this arm brace thing for a little and then it kinda got better. Once that happened I kinda go a little slower and pay attention to trees.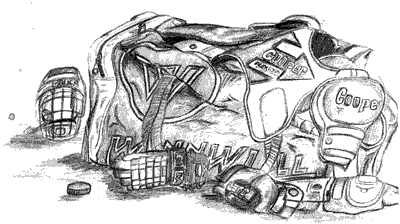 © by Casey C., Rockport, ME