Strength Around My Neck
October 10, 2017
I wear strength and stability around my neck in the form of a cross. My cross necklace is silver in color, rounded on the edges, and about ¾ of an inch from top to bottom. The coating on the necklace is worn away in some places from me wearing it everyday. The silver colored coating is slowly beginning to chip away at the corners where the beams cross and there are a few small spots of teal-green tarnish. The cross is strung on a silver nickel-free chain, which has a tarnished clasp. The the coating on jump ring that hold the cross to the chain is mostly worn off, leaving behind a rosey color. I wear it everyday because it reminds me of Nana and makes me feel closer to God.

My necklace brings back memories of going to church with Nana, even though I didn't have the necklace when she was alive.  I remember walking into St. John's church. My family and I always used to walk in from the west entrance. There is a cubby mounted to the right wall filled with sets of hymn books. We would walk through the rows of crowded pews and make our way to our usual seat in the 3rd row on the right side of the aisle. As I enter the pew, I slide my hand along the smooth wooden back of the pew in front of me as I inch my way to my seat. Once I sit, I look up and admire the stained glass corners of the pyramid shaped steeple. My gaze runs across the miscellaneous shapes of bright vivid colors that connect the white walls. I hear the music begin, and I redirect my focus to the altar where Father Tony is about to start mass. My Nana and I would usually share a hymn book and I would lean against her shoulder while we sang.

Every once in awhile when I look at my necklace, I think of my Nana and how amazing she was. Nana was a fairly short woman, no taller than 5'4" if I had to guess. She walked with a slight limp because one of her legs was smaller than the other because she had polio as a child. Her hair was a beautiful silver-grey color and she wore it short. Her face was round and she had wrinkles near her eyes and mouth from her lovely smile. My Nana gave the best hugs, the kind of hugs that made you feel warm, safe and loved. My Nana was the type of woman that see someone hungry on the side of the road, get them something to eat, and then take it to them. She liked to make people's days better, even if they were complete strangers. I started wearing a cross necklace everyday because I saw my Nana as a role model and she would do the same thing.

On days when I forget to put my cross on in the morning, I feel lost. I can recall one day specifically when I was sitting in class and I was so distracted by the fact that I had forgot to put on my necklace that I starred at simple math problem for 12 minutes. I can remember reaching up and wondering where my necklace was. I ran my fingers across my collarbone to where my necklace usually sits and felt nothing. I was instantly distracted and placed my left hand on the back of my neck to try to feel for the small silver ball that sits at the end of the chain, but once again felt nothing. All hope of finishing my homework in class was gone. I tried to do the problem but my mind was retracing the steps of my morning routine and making me question how I could forget to do something I do every morning.

My cross makes me feel strong and confident. When I was in Junior High School, just after my Nana passed away, I became a ball of anxiety. I wanted to make friends, I wanted people to like me, and I wanted to do good in school. As my 7th and 8th grade years went on, my anxiety got worse and I began to question why some people didn't like me and made fun of me. I remember one day where I broke down when I got home because it had been an extremely stressful day. That was the day when I decided that I had put myself through enough. The next day when I went to Hobby Lobby, I saw a beautiful, simple, silver cross charm hanging in one of the aisles. I loved it and decided it would be my symbol of no longer stressing about the little things and putting my faith back into God. I bought the charm and put it on a plain nickel free chain to remind me to always keep it simple and to stop worrying about everything.

Now, when I get anxious or I am deep in thought I play with my cross necklace. I place my left index finger against the jump ring to hold the charm in place and use my thumb to swing the charm back and forth like a pendulum. I twist and turn the charm between my thumb and first finger, admiring the sleek smoothness. I reach up and begin to roll the chain back and forth between my first two fingers and my thumb as I think about whatever has me perplexed or anxious. For some odd reason, feeling the smooth charm or the bumpy chain between my finger distracts me from whatever is on my mind and helps me focus. 
I carry strength around my neck in the form of a simple cross necklace. I carry it around my neck to keep it close to my heart to remind me that God is always watching over me and protecting me. It is lightweight physically, but symbolically it is just heavy enough to keep me grounded and make me feel safe. Every time I look at my necklace, I am reminded that God has a plan for me. Every glance reminds me of a hardship I have overcome and how strong I am because of it. My necklace is a boost of morale when I am feeling down and an item that helps me prevail over my anxiety. When I wear my cross, I am reminded of how far I have come, what I have faced, and assured that I will be prepared for anything life can throw at me.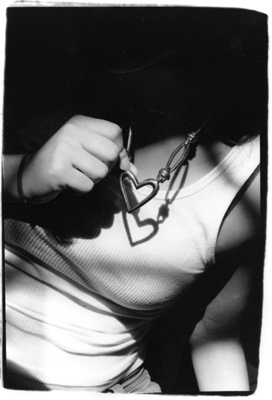 © Julia R., Bethesda, MD