The Memories I Carry
October 10, 2017
Dear Future self,
Always remember to appreciate the little things in life. The card is glossy with two leaves that have all the colors of fall. There is a turkey with a pilgrim hat and it says in bold letters with the words McDonald's thanksgiving day parade. The Willis tower stands high above the city of Chicago. I enter a glass box over 1000 feet above sea level and the view is astonishing. I see the world below. I can feel the building sway with the wind. Clouds move beneath us with the wind. The sun peeks through from the distance. Sunlight reflects off lake michigan as skyscrapers form shadows over the city. Skyscrapers cut into clouds. Glass buildings tower over everything like a castle towers over a kingdom. The bitter cold wind slaps my face as I step outside. The city lights bring the night to life. Darkness falls upon the city as a plethora of light emerges from the streets. The constant blaring of horns let me know that this is definitely downtown Chicago.
It's cold, I breathe in the cold morning air as I walk to school. My bags are packed, the bus lights shine through a thick blanket of darkness. The school is silent, we get briefed in the auditorium. The windy city is in our sights and excitement is in the air. There is a long four-hour ride ahead of us but it' all going to be worth it. I've heard of chicago but being in a parade on national television is definitely going to be a first.
Our band was selected for this parade. There is a reason our band has gotten significantly better over the years. Our band director is more than a teacher. He is a friend. He tells us all the time that every single person in this band is important. He really believes in all of us and is one of the best teachers I could ask for. He is patient, optimistic, and very skilled in music. I don't know if he realizes the impact he has had on my life, but my perspective is so much better than it used to be and I have our band directorn to thank for that.
Chicago is called the windy city for a reason. We have to wait outside for about an hour before we march. The freezing cold air is affecting everyone. We step off. Our head drum major gives the vocal command "On the drum cadence hup hup right now". The pounding drums echo through the heart of the city. Every member is in perfect sync with each step moving forward at the same pace. The traffic filled streets of chicago have transformed into a giant stadium. We enter the TV zone. There's cameras everywhere on the side of the street. There is excitement radiating off of our band members. Before we knew it the parade was already over It may not of been that long but it was definitely a time to remember.
Chicago was definitely one of my favorite memories I have in life. Even though i had ride on a bus for four hours,stand in bitter cold wind for an hour, it was all worth it. I had so much fun with my friends that I call my family. Getting to this point was brought up by my band teacher and the people in it. Being in this band wouldn't be anything without the amazing friends I have made. I'm so glad I got to spend this vacation with my friends who I treat as family. Doing all of this was definitely one of the coolest experiences I've ever had.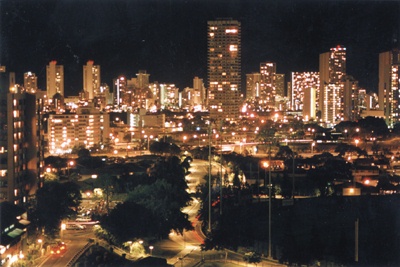 © Chris H., Honoka