My Closest Friends
October 8, 2017
Throughout my years at middle school, I have made so many friends. Not those who run away the moment you need them. People who I developed such an intimate connection with, and were always right behind me in my decisions, whether they be well-thought out ones or naive ones. People who I don't think I would have made it by without.
First, there was Oona. She had blonde hair that she chopped down to her shoulders and thoughtful, ocean blue eyes. Ever since my first day of school, I knew I wanted her to be my best friend. I asked her questions that I already knew the answers to simply for the sake of initiating conversation. She was the kind of girl who used big words for a sixth grader in her everyday vocabulary, such as "meticulous," "outlandish," and "travesty." The kind of girl who was favored by the teachers and produced phenomenal writing. The girl who remembered to make me a Christmas card, helped me study for tests by creating silly songs, comforted me while watching A Dog's Purpose, a true tear-jerker, and always had my back. And then one day, she was gone. And I didn't even have the chance to say goodbye.
Then, there was Kristen. She had black hair with brown highlights invading it. She was seated in proximity to me in math class and stayed by me at lunch when I was eating my sandwiches in solitude. She was the girl who always procrastinated, sat next to me on endless bus rides, talked about who liked who, taught me the quadratic formula, was a complete germaphobe, and often made me laugh about stupid stuff like yogurt, precise language, and math teachers. She never left my side and made my first year of a new school so much more enjoyable.
Karena had silky black hair, had dark, knowing eyes, and had a purple spot on her leg that changed color with the seasons, where her dermatologist made a mistake at removing a mole. We went to a boring summer camp together, and chatted about school, played cards outside, even though the wind blew the Queen of Hearts under the fence, and helped my sister's group choreograph a dance. She was very helpful, studious, and someone to talk about periods with. We sat next to each other when we had a small bus, but then we got a bigger one, and we wanted our own seats. We still talked, one of us standing up to communicate with the other, losing balance when the yellow vehicle hit a bump, laughing our way through the pain of hitting our heads against the windows.
Lucy had short blonde hair and knew the lyrics to every single Hamilton song. She was the girl who I wouldn't be the same without. She was an amazing writer and friend, who never forgot to pay me back, although sometimes several days late, but this didn't matter. She played soccer and was on the debate team. She was exceptionally intelligent, went to "bathroom parties" with me, was best friends with Gayle Forman's daughter(!), and invited me to her Bat Mitzvah, where we sang and danced like we were mentally insane. I had so many memories with her.
Clara had night sky hair and braces that she changed the colors of each month. We became friends by solving Rubik's cubes and sitting across from each other in social studies. She was the type of person who joked about homework to stress me out, played basketball with me during gym, ate candy with me backstage during the eighth-grade graduation when we were color guards, snuck to the bathroom to eat, and became addicted to Color Switch during Lucy's Bat Mitzvah. We carpooled that day and never ran out of things to say, promising to wear the shirts we received from the party on Monday (I forgive you for forgetting).
Emma had long, black hair and dark eyes, like black holes that you could get lost in. She was someone who never got caught for chewing gum in class, became acquainted with people by failing to complete her science homework, spoke fluent sarcasm, always shared her food during bus rides, and studied for Italian tests with me. She scraped kiwi off her sacred binder at the lunch table and took pictures of people when they weren't looking to use for their contacts on her phone. She was a loyal friend who made the tedious, interesting.
Cadence had black hair that ran down her waist. She was the kind of girl who longed to make a good first impression. She gave me watery, pale purple slime on my birthday, asked me for wite-out regularly, had severe OCD, had handwriting that mimicked a typewriter, although she hated it, and ranted to me about her problems on social media. She was Cadence, and admired by many, myself included.
Deanna was proud of being Arabic and despised her frizzy, uncooperative hair. She had a confusing last name and blamed me for giving her the wrong answer in living environment class. She had a pulse of 124 BPM, texted her mom from my phone when hers wasn't functioning properly, gave me Salt and Vinegar potato chips, talked about cats excessively, and couldn't participate in P.E. because of her arthritis. However, this never held her back. Her poems still got tacked onto bulletin boards and she consistently wore a smile on her face.
Eliana was extremely tall and had brown hair that she refused to wear up, which used to be a vibrant blue on the tips. I knew her for the least amount of time, yet our friendship thrived nonetheless. She was the girl who got asked to the Getting to Know You Dance by an arrogant guy who everyone disliked, worried about failing Civil War exams, kept sticky notes with inside jokes on them in the pocket of her binder, and gave me "the look" whenever the boys in our algebra class laughed like hyenas at the teacher's jokes. She was so unique, and a person to cherish.
Lastly, we have Daisy, who I wish I had gotten closer with. She was still one of my friends, just not my best one. However, each day of my life, I strived to be like Daisy, but alas, I never succeeded. She was the girl who was friends with everyone, had a 98 average, wrote notes to people on the last day of school where she confessed things she'd never revealed to them before, scored 113/114 on practice SHSATs, and everyone just adored. She was the girl who always managed to say "I'm okay" with a smile, even when she clearly wasn't, and I had to walk around the perimeter of the schoolyard with during the seventh-grade barbecue after these idiots stole her cotton candy and combined it with their water. Daisy had more of an impact on me than she can ever know.
Oona, Kristen, Karena, Lucy, Clara, Emma, Cadence, Deanna, Eliana, and Daisy have all shaped my world and gave it a purpose. Thank you for never abandoning me and providing me with these lovely memories, which I will treasure for the rest of my life. I may not see any of you after graduation, which will creep up on us way too quickly, but know that each one of you will forever hold a very special place in my heart.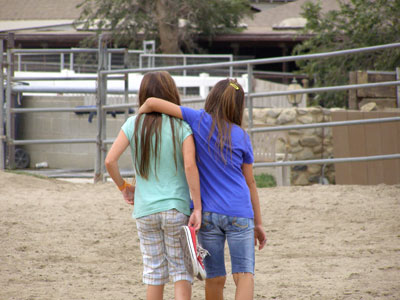 © Austin K., Studio City, CA