Eradicating Fear
October 7, 2017
The scoreboard flickered with bright lights, illuminating the seemingly pitch-black sky with a color that would appear the same as the red from stoplight, blinking like scattered lightning showers. The screams and cheers from the crowd echoed throughout my head, signalling that another touchdown has been made. I wasn't paying attention to the game though, I never really found an interest in watching guys forcefully throw themselves at one another for a rubber ball the size of their head. I was more focused on what my friends were talking about, even if it wasn't very interesting.

There was so many people. So many nameless faces that my eyes recognized, but could not identify. My mind automatically feels as if all of these faces are staring at me, as if I'm the only thing left in sight. The anxiety brings an uneasy feeling in me, making me want to slip into oblivion for the time being. I look back towards my friends and continue to listen in on the conversation, not sure what they've been talking about for the past couple minutes. Seeing as though a few of my friends had left our designated spot on the bleachers, I couldn't help but wonder where they went off to.

Minutes pass by until I can see one of my friends walking up to our group. She sits down on the cold bleacher beside me, and a smile spreads across my face as I look over to her. Her makeup is sparkling under the giant lights that overlook the field, and her lipstick matches the shade of her sweater, almost like a pomegranate color. She puts her head on my shoulder, and hugs me from the side, her brunette hair draping over me. The hug is both comforting and warm, the kind of feeling I wish would last forever. The uneasiness I felt before has drifted away like it was never there to begin with, so we just sat there.

In reality I was with her, but in my head I was alone.

The voices of the people around us kept getting louder and louder, intensifying with every pass and tackle the players made. It was giving me a headache. With my head throbbing, my friends and I make our way over to the snack shop, my only priority being to buy a water to ease the pounding that's going on inside my brain. The lines were a mess, and might I add, extremely long. All of the people crowding around me like a swarm of bugs made me feel claustrophobic, and the heat made me want to slip into a comatose state.

After this night, I never wanted to sleep more in my life.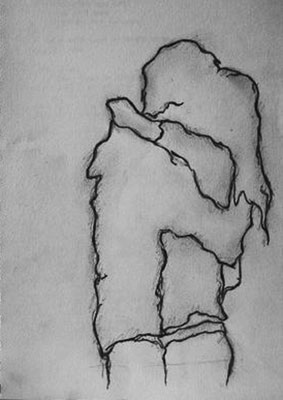 © Nicole B., Newcastle, WA