New York
October 2, 2017
A metropolis as busy as a beehive, a city of people who are simultaneously moving, where the energy was always buzzing, even on rainy days. A place I call New York. I love New York with all my heart, but I didn't find out until I traveled there this past summer. I'm not gonna lie, I had huge expectations. It was all I could think about since two weeks ago when my mom said that I could pick where the family was going to go to this summer. So I did what a normal person who reads travel blogs on the daily would do. I selected an outfit for each day, researched basic New York tourist traps, made a travel playlist, and hoped to achieve the highest level of Tumblr traveling. But, I would later find out that these things are not possible for an average brown girl like me.

As soon as I stepped out of the airport, I knew something was wrong. I took a deep breath to prepare myself for the adventure that I was about to embark, but instead I inhaled some shady street urchin's second hand smoke. At that moment I realised that this wasn't going to be the perfect trip. Suddenly, my hope shattered, I was on the edge of either crying or laughing in denial. But I had to keep a brave face on, because if I showed any sign of regret for coming to New York my parents would say something like, "I told you that we should've gone to The Grand Canyon!", and I was not about to let that happen. That night I tossed and turned, drowning in my thoughts and in sweat because the air conditioning in that house was next to nonexistent. "This trip has to be perfect", I kept telling myself. But so far, it wasn't going quite as I had planned. The house we were staying in resembled one from a 90's sitcom and that worried me because in most of those sitcoms the kid gets lost and/or killed.
I woke up that morning with anticipation that the day was going to be amazing. I dressed myself in the outfit labeled "Day 1" and attempted to prepare myself for the worst, but I couldn't do that to myself, so the stinky bus we took did that for me, My hopes weren't high when my dad led us to the subway station. When we took our our seats into the strange, foreign, subterranean train, and I zoned out. I started to count the minutes until I could go back home to my peaceful bedroom in Texas, but I was constantly being awakened from my thoughts by my dad taking pictures of everything.

Once I stepped out of the platform my senses were wide awake. My eyes were filled with colors that I didn't know existed, I felt an exotic breeze in my hair that I had never felt before, and I heard profanities that could never be repeated. Times Square. I've seen this world through the eyes of vloggers, but I have never experienced it in real life. My eyes wanted to take all of it in but it was impossible to take it all in at once. I needed fuel to explore this place, and me being the risk taking, adventure seeking person that I am, went to McDonald's and ordered my usual.

I checked my phone mid chew and it had messages from my friends back home, but they were old news, New York was where it's at, and I was a fully fledged New Yorker now. "Yup, I'm never looking back," I thought to myself. We wandered around aimlessly around Times Square for a few hours, but it seemed to go by in minutes. Everything was new and strange, you don't usually see a guy dressed as Spider Man screaming profanities about a girl named Rachel, in Dallas. I was really caught up in the dazzling lights, the busy streets, and the different people.

At last, it was time to call an Uber home. My family and I squeezed in the Uber and relaxed a little bit. The driver had a Jersey accent and could apparently smell the scent of tourist on us and asked, "So, you guys are visiting huh?" "Yeah, we're visiting from Dallas", my dad replied. "Oh, I've heard of Dallas, people say it's wonderful! My friends went to Dallas a year ago and they never came back.", said the Uber driver.

That night when I went to sleep on my potential deathbed in the perfect setting for a horror movie, I started to think. So, this trip isn't exactly what I thought it would be. No luxury hotels, no watching a Broadway show, but it was great. If I had done those things I wouldn't have seen the weird things I did. I enjoyed myself and that was more fun than those sponsored travel videos that are most likely staged. This was a fun and real experience.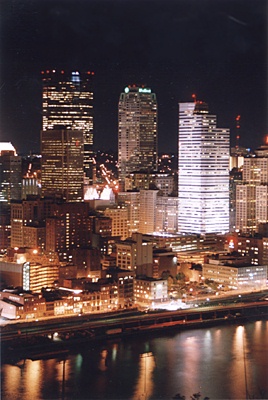 © Dena G., Pittsburgh, PA