The Rock
October 1, 2017
All my life I've been afraid of heights. So much so that when I was young, sometimes if I looked at a tall building my stomach would get a little uneasy. But the Phelps lake hike was a day that I'd never forget.
Every year or so, my family would take a vacation in the summer to Jackson Hole, Wyoming. We always did a lot of activities there, from long hikes, kayaking and canoeing, and making big fires. One year, my dad found this cool hike that went through some woods along a lake (Phelps lake). It was a 2-mile hike that led to a 25-foot-high rock that people always came to jump off of into the 30 foot deep water.
Once we found this hike along with the rock, we were talking about it all day. On the ride there, I ask my brother, "Do you think you are going to jump?", I asked with fear
"I'll jump if you jump.", he said with a nervous tone.
Then my dad says, "If an old man like me can jump off, you two can jump off."
My mom adds, "Sean, if you don't jump first, and your brother goes before you, you won't hear the end of this."

My brother and I spent the whole day looking at pictures of it online, thinking that it'll be a hard thing to do. I said to him, "If we are going on the hike all the way to it, then we might as well just jump, I mean we aren't going there for nothing right?" We had to make up our mind soon enough because right after I said that we pulled up to the spot where the hike started.
We hiked the long trail, and ended up the rock where my dad said he would jump first. We all went down to this nice spot where we can see the jump from a very good angle. My dad ran off and hit the water, just looking at him jump made me even more nervous. Since pretty much everything is a competition between my brother and I, I had to jump first.
I promised myself to never look down when we got there. I guess I could say that is how I made it through the jump. I started up to the rock, to one of the scariest moments of my life.
The rock was towering, seeming like it was 50 feet instead of 25 feet high. The rock was angled up a little bit so you ran off on an incline. In order to not hurt yourself, you had to jump out far enough because part of the rock about halfway down was positioned a little farther out than the rest of the rock. After the jump you landed in probably the coldest water I have ever felt. Luckily, that day it was a sweaty 90 degrees out, so the water was refreshing.
I stood about 14 feet away from the edge to get a good running start. As I am standing there, I hear my dad yell, "Jump already!"

I yelled back a sharp, "Dad, I will!" I was very nervous at this point, and my dad saying that didn't help. I shook my head and let out a small, nervous laugh. It was time to focus. I stood there as the rock was staring at me, waiting for me to make my move. I made a break for it, really watching my feet so I didn't slip on any pebbles or trip on anything. After taking about 4 steps, I thought to myself that there is no turning back, I had to keep on going. I ran and when I got to the edge, I pushed off with my leg with all the strength I had, making sure I could clear the rest of the rock. I plummeted down and hit the water within a second, but that jump felt like forever.
I let out a sharp gasp, something I had never felt. I looked down as I was falling, seeing nothing but the blue water below. I thought I was going to hit the water so I held my breath, but I kept falling. After falling for what felt so long, I plunged into water that was so cold it didn't even feel right. Coming up to the surface with a big gasp for air, I was completely relieved, no more falling, no more feeling my stomach rise up my throat.
I swam back to shore, adrenaline pumping, my heart beating out of my chest. I got out of the water, jumping around like a little girl getting her favorite Christmas present. When we got back to the cabin where my grandparents stayed, I was so excited to show everyone the video of me jumping. My grandparents thought the video was pretty cool, along with my aunt and her boyfriend. While watching the video, I saw that by pushing my leg at the last second, I jumped about a foot higher. I rubbed it in my brother's face for the rest of the vacation. I did jump before him, and I jumped higher than he did, with him being a lot more chill with heights than I am. Some may say that makes me the better brother but who knows. From that moment on, I started doing more things that were out of my comfort zone. I've gone on big rollercoasters, something I never would have done, and other things. That day opened up so many more opportunities for me.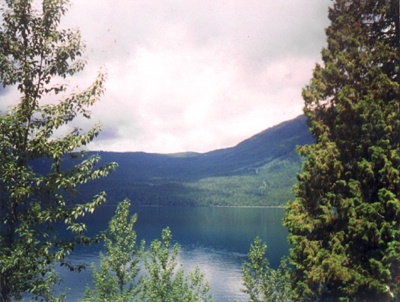 © Chelsie T., Phoenix, AZ