Dogs Changing Humans
October 1, 2017
Ever since I was a little girl I can't remember a time when I wasn't begging for a dog. I mean what little girl wasn't? I had so many stuffed animal dogs and whenever I saw a dog I was asking to pet it . My family got a dog when I was in sixth grade. A t-toodle. Tibetans terrier and toy poodle mix. She has a fuzzy white coat with black spots. Izzy is the typical high energy dog. I don't know how I got the inspiration to volunteer at an animal shelter, but the dogs there made me realize how much I want to be a Veterinarian when I'm older. Many of the dogs at the shelter have left a marks on my heart and continue to not only help me improve as a future vet, but also change my view on the world.
Copper
Copper was the first dog I saw on my first day at the shelter. I was very nervous and afraid all the dogs would be malnourished or sick. When I walked in, I turned the corner to see a mutt with the prettiest brown and black markings on her white coat, like a rocky road ice cream. I took her out into the yard and she ran up to me and started wagging her tail and was smiling so big she could've been on a canine commercial . She ran tons of laps around the yard and loved to have tons of attention. After 15 minutes, Copper still had energy, but I had to take her in. Little did I know this little soul wasn't gonna be at the shelter next time I was there. Instead, she would be there with a new family. I wish I could've thanked her as she really made me realize that I was going to love working here.
Dart
I always walk up and down the runs to see the new dogs. This time, the first one on the left was a little brown shepherd mix lying on her bed, curled up in a ball. Her name was Dart. We took her into the yard and her name was pretty self explanatory. She started running laps and would circle around the trees and come back speeding 70 mph. After she finally finished her "marathon," she came up and laid right down and my lap and panted. Sadly, Dart still hasn't been adopted, but she's grown up at the shelter. She does have a little backstory about being rescued from Kansas but now the shelter is her home, as sad as it sounds. Everytime I see her it brings joy and sorrow. She's a tough girl and she reminds me I don't keep going back to the shelter for myself, but also for the dogs.
Valor
After the first month, a German Shepherd appeared. Valor was adopted from a shelter for about 2 weeks. But then returned to the shelter for an unknown reason. He carries the most intimidating sound when you hear him bark, this noise causes me to jump every time I hear his bark. However, if you go up to him he's very gentle. It's almost like getting spooked when you turn a corner, after a minute you are back on your feet. Valor came from a very bad home. He has been at the shelter as long as Dart. They are basically brother and sister. You can call him a strong, and independent guy. He has definitely taught me the values of being a human, and that life will relocate you sometimes, but you always end up in the right place.
Sundae and Fudge
A while ago, two dogs entered the shelter, a mom and her son. They were both in the same run together. Fudge was about 8 weeks old, a little black mutt, with brown folded ears, Sundae has the most frightened look ever, almost like she'd had a nightmare, and it kept repeating itself over and over. As I peeked my head in the cage, sitting in the corner with a Thundershirt on and shriveling, I saw Sundae. When the shelter had more room, Fudge grew up and became too big to share a cage. Sundae and Fudge were abused and Fudge was all Sundae had left because the rest of her puppies were taken away. Everytime I go back to the moment of the cuddling neck and neck. If there's one thing in life, you never give up on family. Family is always there for you and will always have your back, or in a dog's case, your paw.
Bear
Could you ever imagine encountering a blind dog? One day as I walked up and down the runs, I heard a dog barking so loud, you'd think he was deaf. It was Bear. He's not deaf, he's blind. This German Shepherd mix fools you. You wouldn't know if you saw him, but if you look him in the eyes closely, they are fogged like a cold glass that came out the fridge. We don't have a backstory on Bear, but he has a story for us. Even though he can't see, he can still do almost everything a dog can do. Bear taught me to never take anything in life for granted. If I was blind like Bear, I would be so discouraged, but Bear has helped me seek a new level of positivity and helped me "see" better in the world.
Sevvy and Victor
One day we walked into the shelter and I hear my mom scream like she'd just dropped a glass vase. If there's one thing that comes to mind when you see a Pitbull it probably isn't run up and pet it. If I choose to become a vet when I'm older, I'm going to have to deal with all kinds of dogs, and a pitbull is one. Sevvy and Victor are both Pitbulls. Sevvy has a light brown coat with pointed ears. Victor is white with pink splotches with a baby face, a kind heart, all trapped in a aggressive body. Sevvy and Victor are definitely not the scary Pitbulls you see on the news biting people, nor the ones whose owners have signs that say, "Beware of Pitbull," to scare you away. You walk up to Sevvy and she runs laps in her run because she can't wait to meet you or lick your face. Victor loves to bark, but it's his way of saying, "What's up?" When I had the chance to see Victor for the first time, I can admit I was terrified, but now I have to admit he's quite the amazing pup. Never judge a book by its cover. It does seem these haven't been adopted because people see them and are terrified.

West Suburban Humane Society
Everytime I leave the West Suburban Humane Society, I give the dogs a treat and say, " Hope I don't see you next time bud," praying that the dogs get the homes they deserve. The shelter has not only nurtured my love for dogs, but also taught me many lessons. Honestly I don't know what I'd do if I didn't have these furry faces in my life. Dogs are an underestimated animal.You may think that if you train a dog to do tricks or follow commands, dogs are inferior to humans, but dogs can express feelings and love far better than many humans do. A dog's purpose from a six year old, " People are born on Earth to learn to live a good life--- dogs already know how to do that, so they don't stay as long."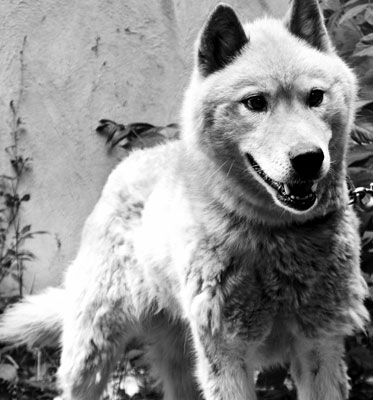 © Mike A., Newark, DE