A Trip to Remember
September 26, 2017
The weather was changing. The cold and barren area was beginning to get warmer. Kids were finally getting released from school to begin spring break. Many people would leave Michigan to go somewhere where it was hot. A few of my friends had left to Florida but I was staying in Battle Creek. It was still chilly outside and wasn't weather for the beach. Any kid in my position would not be happy either.

I came home from school late March well aware that I would be staying home for another spring break. I walked into my house to see my grandparents and siblings standing in our living room. I walked over as my mom called my name. Her face looked excited but her eyes seemed to be filled with worry. My parents explained to me that my grandpa would be going on a road trip to California and wanted my brothers and I to join. I immediately started packing, I made sure to bring short sleeves, shorts, and my bathing suit. However, I packed some clothes in case weather was colder somewhere.

We started our long journey across the county. I remember passing states and stopping to get some kind of souvenir in each one. The drive was long and started to feel drawn-out. We looked forward to stopping to eat or sleep on our way. There were many landmarks and places we stopped to see. On our way there we stopped to see Las Vegas and even went to where Area 51 is.

California was summery and amazing. It was hot enough to swim outside and go to the beach. We travelled around the state making sure to see different things. We went to Sacramento, San Francisco and finally Los Angeles.

Our trip was eye opening and breathtaking. Even on the way home we made sure to see the Grand Canyon and go through Texas. Although we spent more than a week on this trip, it flew by so fast. Travelling through the country for the first time really changed me. It opened my eyes to a ton of different people and places. I got to know more about the U.S. I also got to learn and see things that a teacher couldn't teach me from a book.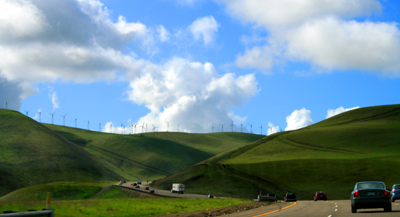 © Kat C., Racine, WI