Memoir
September 26, 2017
As if magic, it wasn't there one moment and then appeared almost seemingly out of nowhere. Headlights staring me down like cat eyes, growing bigger and bigger as it approached. As we speed down the hill, two girls, two bikes, one car. An old recipe that never turned out when you made it.
My sister yells out to me but the wind intercepts it and carries the sound away from me. I cast away the notion that it was anything important and continue behind her at the same speed. Suddenly, with a turn of the wheel, she was no longer beside me but directly in front of me. In the movement, metal and rubber collide and stick, like glue to skin. My front wheel promptly stops rolling after latching on and consequently leaves me still going, Over my bike, over her, and heading for the ditch.
My first notion was that everything was okay. I was fine!
"Really lady, I'm fine I don't feel a thing!" I said to the lady who was driving the cat eyes down the road.
"Just a couple scrapes! I'll get some band-aids when I get home."
After offering to call 911 multiple times she reluctantly left, disappearing behind the hill from which we had came. That was the moment I knew something was very, catastrophically wrong. The arm isn't supposed to be bent at this angle, is it?
No. It most definitely wasn't.
Our house was only just down the road, but the short walk seemed almost an eternity to me. All the way, as I cradled my arm, I couldn't help but keep crying out,
"We should've stayed home, we shouldn't have gone bike riding."
Her consoling didn't help, it made me cry harder, because I wished with every fiber of my being that I would be okay. That my arm wasn't broken, I was just being dramatic. That in a couple days, I'd be as good as new and riding my bike again. Oh, how I was wrong.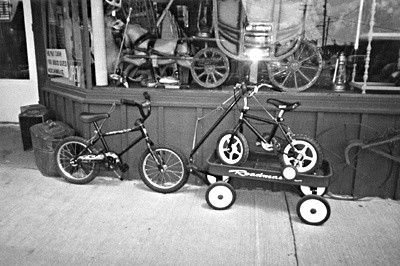 © Eva A., Eagle River, WI