Four Year Old Priorities
September 24, 2017
My four-year-old priorities: my pink princess dress, my sparkly crown, and my glittering high heels.
There was nothing more special to me than these three inanimate objects; nothing else in the whole world that I prized more.
Life is very simple when you're four; when all you have to do is fixate all your time and energy into princess dresses and other pink sparkly things.
However, my fear of others not loving my pink sparkly things much as me and my innate shyness sometimes got in the way of me wanting to show off my most special possessions.
My fourth birthday party was no exception.
Everything was perfect. The cake was in its place, the pool was freshly scrubbed of all the unwanted inhabitants of its water, the pink streamers were up and the food was prepared.
There was nothing more exciting to me than the chance to wear all my favorite things. I put on my pink princess dress, its matching crown and my most favorite sparkly high heels. I felt like the most beautiful girl in the world.
As I stood by my bedroom window, I loved the way the light danced across the neckline of my dress and made rainbows on my glittering shoes. It was memorizing and magical.
I made my way outside to find more and more people beginning to show up. It was like everyone I could possibly know was in one place. My backyard looked like a jungle filled with hundreds of giants ready to strike, obsessed with my every move. Everywhere I went they wanted to talk to me, to hold me, to ask me questions, to take my picture. I was the center of attention, and I hated that.
Even at four, over-thinking was my forte.
With my crown in one hand and tears running down my face, I made my way through the giant infested jungle straight to my Mom who was working in the kitchen.
She, of course, asked if I was hurt but I replied telling her I felt embarrassed having all these people pay so much attention to me.
"You look so beautiful, you're like a princess," she told me, "There is no reason to feel embarrassed"
"Sit here" she continued.
When she came back inside, she put her hand out and led me out to my backyard.
When I got outside, every single person had their hands over their eyes. I made my way around the outer edges of my pool, in my sparkly pink dress, crown and glittering shoes, and walked the perimeter.
No one was watching as I walked around the pool, feeling and looking just like the princess I wanted to be.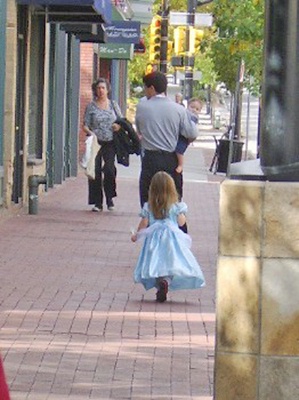 © Kristen T., Tulsa, OK